JAKARTA, KOMPAS.com – The Indonesian National Police started off its fight against home-grown terrorism and radicalism on the right foot, after the Detachment 88 counterterrorist unit captured a 20-strong cell of militants in Makassar, South Sulawesi.
Investigators killed two militants during the raid and wounded one, while incurring no casualties in return.
Indonesian President Joko Widodo has ordered mass vaccinations to contain the Covid-19 pandemic in Indonesia to begin next week. The President's order comes days after the government started to distribute the vaccines nationwide.
But while the Covid-19 vaccine might be the long-sought turning point in Indonesia's struggle against the pandemic, the public might have to wait a little longer.
President Jokowi raised the possibility of a tight nationwide lockdown similar to that imposed on Indonesia when Covid-19 first appeared in March 2020. Read on for these news items, which are curated by our editors: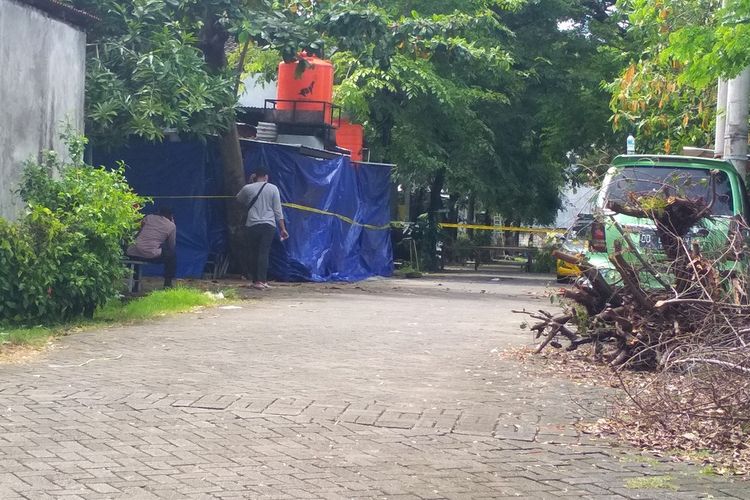 The location of the Detachment 88 raid on a Jamaah Anchor Tauhid (JAD) cell in Makassar, South Sulawesi, Wednesday (6/1/2021)
Indonesian Counterterrorist Police Kill 2 Militants in Raid On Terrorist Cell
The Indonesian National Police's Detachment 88 [ Densus 88] counterterrorist unit has killed two militants and arrested 18 others during a raid on a suspected Jamaah Ansharut Daulah terrorist cell in Makassar, South Sulawesi on Wednesday, January 6.
"The Densus 88 killed the two, who were identified as R and his son-in-law AJ, after they resisted arrest and attacked," said South Sulawesi Regional Police chief Inspector General Merdisyam. "They also shot and wounded another militant."
Merdisyam added that "Densus 88 also arrested 17 others during the house to house operation." He asserted that the men, along with hundreds of others, pledged allegiance to ISIS in 2015 at the Ar-Ridho religious school run by a cleric named Basri.
Police Precinct Police Chief Commissioner Witnu Urip Laksana reiterated Merdisyam.
"The JAD militants were involved in a series of church bombings in the Philippine city of Jolo in January 2019 and August 2020, which killed dozens of people and wounded hundreds of others.
Source:
https://go.kompas.com/read/2021/01/06/231158674/indonesian-counterterrorist-police-kill-2-militants-in-raid-on-terrorist-cell.
Doses of Sinovacs Covid-19 vaccine arrives in Tanjungpinang, the provincial capital of the Riau Islands Province on Tuesday (5/1/2021)
Mass Covid-19 Vaccination Must Be Done Less than 12 Months, Jokowi Tells
President Joko Widodo urged his officials to carry out a mass inoculation program of the Covid-19 vaccine in Indonesia next week.
Popularly known as Jokowi, the President said the country hopes to complete the mass vaccination program in three and a half year, along with the rest of the word.
While Health Minister Budi Gunadi Sadikin said the mass Covid-19 vaccination in the "country could be done in 15 months", the President challenged him to get it done "in less than year".
"We hope that with the mass vaccination program, we will be able to contain the spread of the Covid-19," he said. The Covid-19 jab drive is scheduled to take place in the second week of this month.
The vaccines will initially be given to healthcare workers like doctors and nurses, followed by the military and police, then educators. Then, the general public will be vaccinated at the last batch.
Nonetheless, the President called "on the people to remain vigilant, follow health protocols like wearing masks, washing hands, refrain from going to crowded places and maintain physical distancing."
Source:
https://go.kompas.com/read/2021/01/06/172853374/mass-covid-19-vaccination-must-be-done-less-than-12-months-jokowi-tells.
President Joko Widodo delivers a virtual commencement speech for graduates of Brawijaya University on Tuesday, (5/1/2020)
Indonesia Might Enter Another Lockdown After Covid-19 Cases Surge
Indonesian President Joko 'Jokowi' Widodo has raised the possibility of beginning 2021 with a nationwide lockdown, as the number of Covid-19 cases more than doubled during the last two months of 2020.
Jokowi urged the officials to redouble efforts to contain the pandemic. "[Covid-19 cases surged] as public compliance with health protocols such as wearing masks, washing hands and practicing social distancing declined," the head of state said.
"I urge the Covid-19 Task Force to communicate health protocols more effectively through television and other media."
The President noted that "In November there were 54 thousand cases [across Indonesia], which more than doubled to 110 thousand in December."
Jokowi's warning comes as the government is set to impose tight social distancing in Java and Bali between January 11 to January 25. Coordinating Minister for Economic Affairs Airlangga Hartarto announced the imposition of the policy, after the number of weekly cases surged from 48,434 in December 2020 to 51,986 in January 2021.
Source:
https://go.kompas.com/read/2021/01/07/043802474/indonesia-might-enter-another-lockdown-after-covid-19-cases-surge.
Dapatkan update berita pilihan dan breaking news setiap hari dari Kompas.com. Mari bergabung di Grup Telegram "Kompas.com News Update", caranya klik link https://t.me/kompascomupdate, kemudian join. Anda harus install aplikasi Telegram terlebih dulu di ponsel.