JAKARTA, KOMPAS.com – The Indonesian National Police's circular outlawing the Islamic Defenders Front [FPI] has drawn fire from Parliament, civil society groups and the media, after one of its points was deemed to undermine freedom of speech.
People's Representative Council Commission III on Legal Affairs, Human Rights and Security Arsul Sani urged the police to amend an article of the circular warning the public not to "access, download, and distribute the FPI's content through websites or social media."
"The Police need to elaborate this point, because its open ended nature is liable to be misused or misinterpreted. They should consult a legal expert on the contents of the circular to give the media, and the public at large, a better idea about the document."
Arsul added that the document is more suited internally for the police instead of the public.
Also read: Indonesian National Police Outlaws FPI Symbols and Content
A number of Indonesian press organizations, among them the Alliance of Independent Journalists [AJI], the Editor-in Chief Forum [Forum Pemimpin Redaksi], and Indonesian Cyber Media Association [AMSI], strongly criticized the article.
The groups said the article contradicted Article 4 paragraph 3 of Indonesia's 1999 Press Law, which stated that the "press has the right to search, obtain and disseminate ideas and information."
They also view the article as 'a ban,' that stands against Article 4 paragraph 2 that outlawed 'delaying or obstructing coverage,' that is punishable by up to two years in jail and a Rp. 500 million [$35,187.75] fine.
They added that the circular also stands against Article 28F of the 1945 Constitution [UUD 1945] that gives individuals the "right to communicate and obtain information," as "access to internet content is a protected right to obtain information under UUD 1945."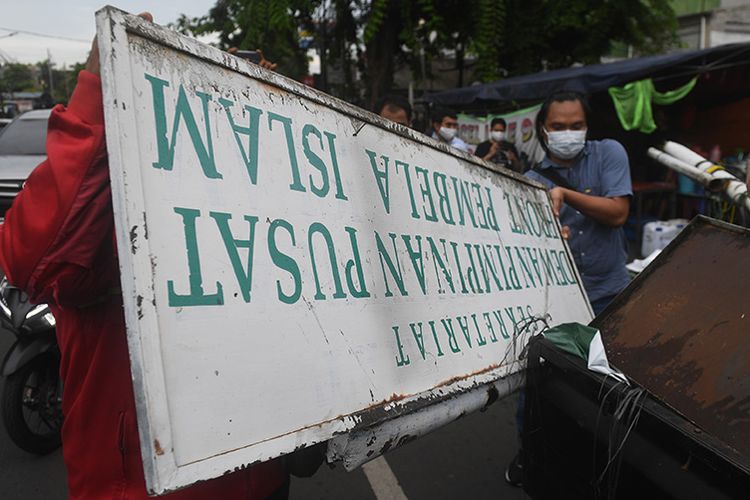 FPI signposts taken down at the groups offices in Petamburan, Central Jakarta, Wednesday (30/12/2020)
Also read: Indonesia Offically Disbands the FPI