JAKARTA, KOMPAS.com – Indonesian President Joko 'Jokowi' Widodo has succeeded what his predecessors failed to do by disbanding the FPI.
Best known for using Islam as a reason to terrorizing political opponents and sweeps on private businesses, the group and its notorious head Rizieq Shihab were undone after falling foul of Covid-19 health protocols and forgetting to extend their organizational permit, which expired in 2020.
Indonesia will receive 1.8 million doses of the Covid-19 vaccine from Sinovac, two weeks after the country received the first batch of 1.2 million vaccines from the Chinese pharmaceutical company.
Indonesian Foreign Minister Retno Marsudi said the doses will be the first of more to come, after the government inked deals with Astra Zeneca and Novavax to procure more vaccines from both companies.
And Jakarta is leading the way in preparing for the vaccines in Indonesia, after Jakarta Governor Anies Baswedan ordered the building of facilities to prepare for mass inoculation of the Covid-19 vaccines.
Read on to get more details of these pieces, which are curated by our editors: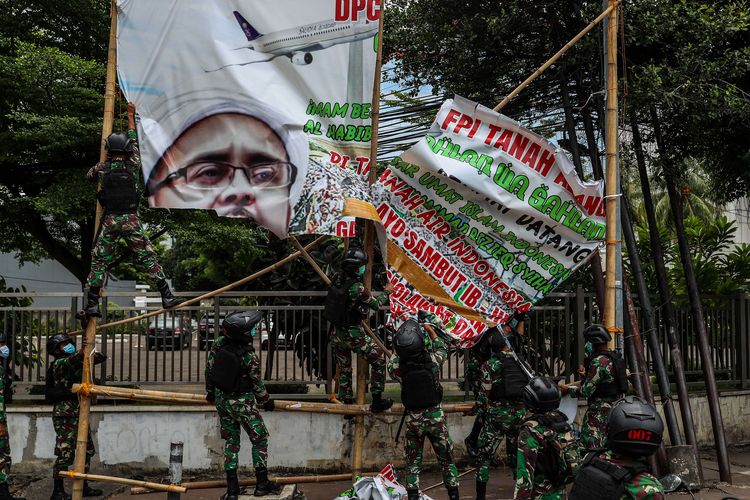 Indonesian Army soldiers take down banners oFeaturing Islamic Defenders Front [FPI] head in Jakarta [20/11/2020]
Indonesia Officially Disbands the FPI
The Indonesian government disbanded the Islamic Defenders Front ( FPI) on Wednesday, December 30, phasing out the group's 22-year existence. The move culminated weeks of tensions following the return of its exiled chief Rizieq Shihab from Saudi Arabia last November.
"The government has disbanded FPI and will stop its activities in the future because it no longer has any legal standing as an organization," said Coordinating Minister for Political, Legal and Security Affairs Mahfud MD.
Mahfud added that the ban was based on a joint ministerial decree ( SKB) issued by six officials. They included Minister of Home Affairs Tito Karnavian, Minister of Legal Affairs and Human Rights Yasonna Laoly, and Indonesian National Police Chief General Idham Aziz.