JAKARTA, KOMPAS.com – The Indonesian government has barred a German Embassy staff from returning to Indonesia, after the person visited the Islamic Defenders Front (FPI) offices in Jakarta a day before the group held the so-called 1812 protests in the capital.
"We do not wish for the [embassy staff member] to return to Indonesia, after the person in question visited [the FPI Secretariat] in Petamburan, Central Jakarta on December 17," Indonesian Foreign Minister Retno Marsudi confirmed the move in an online statement on Tuesday, 29 December.
"[The German Embassy] has requested the staff member to return to Germany, as soon as news about the visit broke out. The Indonesian Foreign Ministry has also summoned the German Charge d'affaires over the matter."
Also read: German Embassy in Jakarta Urged to Clarify Stand on Islamic Defenders Front
Retno added that she asked the German Embassy to clarify the visit by the staff member, and convey the Indonesian government's protest over the visit.
"The German Embassy maintained that her visit [to the FPI Secretariat] was of her own initiative, without the orders or knowledge of the Embassy. The Embassy also apologized and conveyed its regrets for the incident," she said.
"The German charge d'affaires also denied [the FPI's] claims that the Embassy supported its goals. He also maintained that the German government supports Indonesia's efforts against radicalism, intolerance as well as hate speech and wishes to continue bilateral initiatives against these issues."
Retno noted that the German Embassy sent the staffer back on December 21 to explain her actions.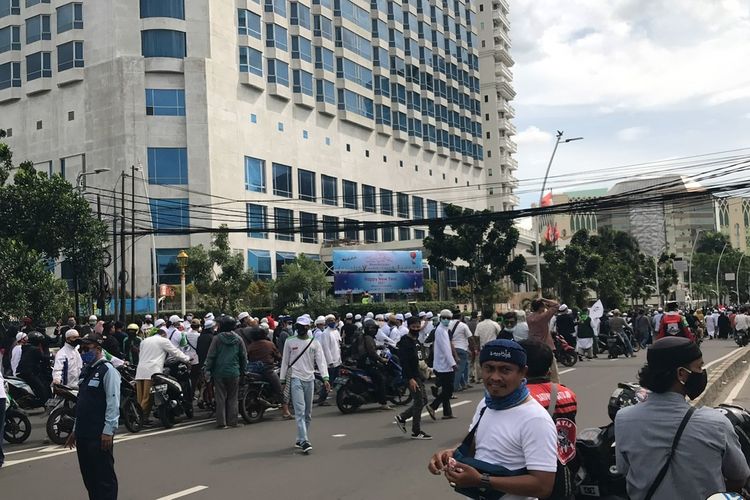 FPI members converge ahead of 1812 protests on Friday (18/12/2020)
Indonesian Ministry of Foreign Affairs spokesman Teuku Faizasyah said, "The staff member in question was registered as a staff member of the German Embassy with the rank of Second Secretary. This gave her the rights and privileges of diplomatic rank under the Vienna Convention."
Also read: Jakarta Police Pursue Attacker of Policemen During Protests