BANGKOK, KOMPAS.com – Two critically endangered Sumatran orangutans on Thursday were brought back to Indonesia by air years after they were smuggled into Thailand.
"The pair, Ung Aing and Natalee, were smuggled by poachers when they were still babies three years ago. Now the duo is four years old," Euronews reported on December 17.
Police said that Ung Aing and Natalee were initially meant to be sold to a tourism business.
The police, however, managed to intercept the wildlife traffickers between Malaysia and Thailand borders following a tip-off from the public in June 2017. Besides the two orangutans, the police also rescued 39 Hamilton tortoises, 12 Indian turtles, and six raccoons.
Also read: 5 Indonesians Face Possible Death Penalty in Malaysia for Drug Smuggling
The two orangutans have been living in a wildlife rescue center in Thailand. Once they are back in Indonesia, they will undergo a rehabilitation program before being released back into the wild in Sumatra.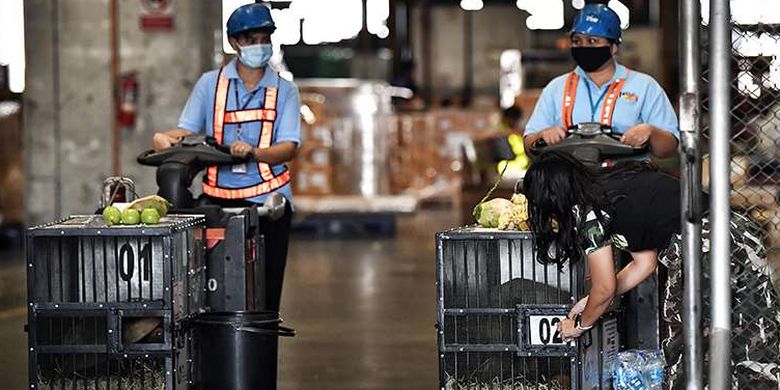 Two critically endangered Sumatran orangutans are brought back to Indonesia by air from Suvarnabhumi Airport, Bangkok on Thursday, December 17, 2020.
Animal experts of the Chulalongkorn University in Bangkok have already conducted Covid-19 tests on the duo ahead of their journey back home, according to the AFP news agency on December 17.
The two orangutans were also given pre-flight snacks comprising bananas, coconuts, and electrolyte drink through a small hole in their cages. They were first hiding behind gunny sacks as they were reluctant to take the snacks. But, they finally had their food before flying back home.
Thai Department of National Parks and Wildlife deputy director-general Prakit Vongsrivattanakul said that 69 smuggled orangutans have been sent back to Indonesia since 2006. Many of those were able to be released back into the wild.
Also read: Indonesia Plans Rewards for Navy, Maritime Patrol in Stopping Smuggling
Although the two orangutans are on their way home, their lives are still in danger. The Sumatran orangutans are critically endangered as the population is estimated to be less than 15,000.
This is affected by the condition of their rainforest habitat that has shrunk drastically over the last few decades due to logging, the expansion of oil palm plantations, and mining activities.
Media reported that the Sumatran orangutans are on the brink of extinction. Illegal hunting is also one of the biggest factors affecting the decline in their population.
(Writer: Bernadette Aderi Puspaningrum | Editor: Aditya Jaya Iswara)
Source: https://www.kompas.com/global/read/2020/12/18/151517670/2-orangutan-yang-diselundupkan-ke-thailand-dipulangkan-ke-indonesia?page=all#page2.
Dapatkan update berita pilihan dan breaking news setiap hari dari Kompas.com. Mari bergabung di Grup Telegram "Kompas.com News Update", caranya klik link https://t.me/kompascomupdate, kemudian join. Anda harus install aplikasi Telegram terlebih dulu di ponsel.