KOMPAS.com – Indonesian art forms continue to make inroads in the wider world, as the United Nations Educational, Scientific and Cultural Organization [UNESCO] has jointly designated Pantun poetry as an Intangible Cultural Heritage from both Indonesia and Malaysia.
The UN organization gave Pantun this designation during its annual convention in Paris, France on Thursday, December 17.
"Pantun, a rhyming form of Malay verse recited in song and writing, has just been inscribed on the #intangibleheritage list. Congratulations #Indonesia and Malaysia!" UNESCO said on its Twitter account @UNESCO.
As verse form in the Malay language, Pantun is used "to express intricate ideas and emotions. It is the most widespread oral form in maritime Southeast Asia and has been used in many parts of the region for at least 500 years," UNESCO said in its website www.ich.unesco.org.
Also read: How Indonesian Batik Became a UNESCO Intangible World Heritage
The organization highlighted Pantuns' versatility and place in the Malay culture of present-day Indonesia and Malaysia.
"Pantuns may be transmitted in music, song and writing. 70 per cent of verses are devoted to expressing love of a romantic partner, family, the community, and the natural world," it noted.
Whether formally taught or passed down for generations, UNESCO cited that Pantun are versatile staples of Malay culture, as they can be "recited at weddings, customary rituals and official ceremonies," the organization noted.
Yet Pantun is as much about human relations as they are about pomp and circumstance.
"[Pantun] often contain religious and cultural values such as restraint, respect, kindness and humility. Pantun has also been used [for]…conflict resolution as it offers a way to gently evoke important issues."
The Indonesian Ministry of Education and Culture hailed UNESCO's decision.
"The designation of Pantun as an UNESCO Intangible Cultural Heritage are due to [Pantun] practitioners, communities, and other stakeholders," said the Ministry's Director General for Culture Hilmar Farid in a press release on Friday, December 18.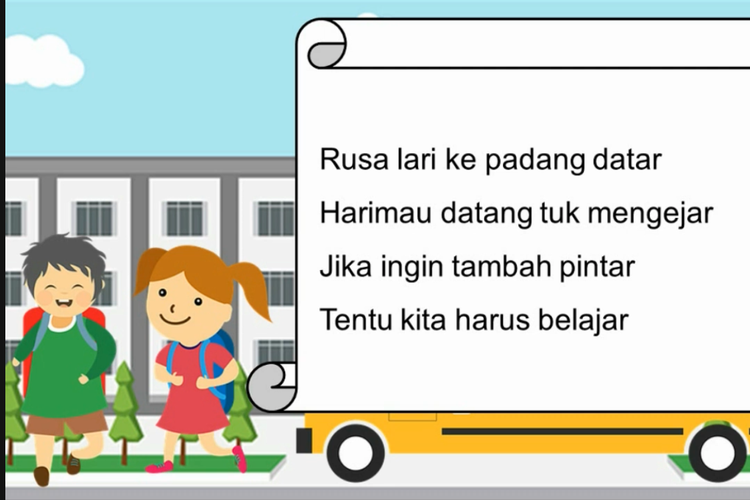 An example of Pantun as an advice
Also read: Indonesia's Toba Caldera Recognized as UNESCO Global Geopark
Indonesia's Permanent Representative to UNESCO Surya Rosa Putra reiterated Hilmar.
"[Pantun] is the first [art form] that Indonesia jointly proposed with another country. The designation of Pantun [as an Intangible Cultural Heritage] shows its meaning to both Indonesia and Malaysia," he said.
"[Pantun] also reflects [Indonesia and Malaysia] as two countries with common roots with a shared identities, culture and traditions. We hope to make Pantun a part of [Indonesia's] creative economy by having it taught in schools, workshops and other artistic activities."
He added that Indonesia and Malaysia are planning initiatives involving practitioners of Pantun in both countries to maintain its status as an Intangible Cultural Heritage.
Indonesian has 11 cultural traditions listed as UNESCO Intangible Cultural Heritages. Other traditions on the list are the Pencak Silat martial arts, Pinisi ships, and Batik cloths.
(Writer: Dandy Bayu Bramasta | Editor: Inggried Dwi Wedhaswary)
Sources:
https://www.kompas.com/tren/read/2020/12/18/123042765/unesco-tetapkan-pantun-sebagai-warisan-budaya-tak-benda-indonesia-malaysia?page=all.
Dapatkan update berita pilihan dan breaking news setiap hari dari Kompas.com. Mari bergabung di Grup Telegram "Kompas.com News Update", caranya klik link https://t.me/kompascomupdate, kemudian join. Anda harus install aplikasi Telegram terlebih dulu di ponsel.