JAKARTA, KOMPAS.COM - The long arm of the law has finally caught up with Islamic Defenders Front (FPI) head Rizieq Shihab, as the possibility of getting arrested by the Jakarta Metropolitan Police prompted the firebrand cleric to turn himself in.
The FPI is also confirmed to lose ground in official circles, as Coordinating Minister for Political, Security and Legal Affairs Mahfud MD scrapped plans to reconcile with the group even before Rizieq's return from exile in Saudi Arabia on November 10.
In another development, the Indonesian National Police's Detachment 88 counterterrorist police arrested a fugitive from the first Bali Bombing in 2002 at Lampung Province.
Read on to get the details on these stories.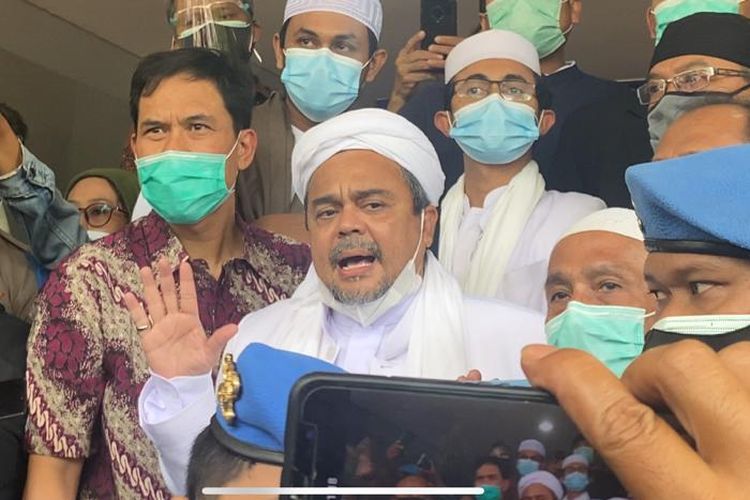 FPI chief Rizieq Shihab turns himself in at the Jakarta Metropolitan Police headquarters on Saturday (13/12/2020)
1. Indonesia Highlights: Jakarta Metropolitan Police Arrests FPI Chief Rizieq Shihab
The Jakarta Metropolitan Police has officially arrested Islamic Defenders Front (FPI) head Rizieq Shihab hours after the firebrand cleric turned himself in on Saturday, December 12.
"Rizieq will be detained until December 31. He will be in our custody to keep him from evading us, to keep him from obstructing justice, and to facilitate our investigations [of the FPI]," said Indonesian National Police spokesman Inspector General Argo Yuwono.
Jakarta Metropolitan Police spokesman Chief Police Commssioner Yusri Yunus agreed. "[Rizieq] was afraid of getting arrested, so he turned himself in."
"His arrival at the Jakarta Metropolitan Police was not as a witness summoned for questioning, but as a suspect in a number of cases." Yusri added that the police also offered Rizieq's accomplices the option of turning themselves in or getting arrested.
Rizieq denied going on the run. "I did not show at the previous police summons on December 1 and December 7 because of ill health."