JAKARTA, KOMPAS.com – The Jakarta Metropolitan Police have officially arrested Islamic Defenders Front [FPI] head Rizieq Shihab, hours after the firebrand cleric turned himself in to the authorities on Saturday, December 12.
"Rizieq will be detained until December 31. He will be in our custody to keep him from evading us, to keep him from obstructing justice, and to facilitate our investigations [of the FPI]," said Indonesian National Police spokesman Inspector General Argo Yuwono.
Jakarta Metropolitan Police spokesman Chief Police Commssioner Yusri Yunus agreed. "[Rizieq] was afraid of getting arrested, so he turned himself in," he noted.
Also read: Jakarta Police Vow to Arrest FPI Chief Rizieq Shihab
"His arrival at the Jakarta Metropolitan Police was not as a witness summoned for questioning, but as a suspect in a number of cases."
Yusri added that the police also offered Rizieq's accomplices the option of turning themselves in or getting arrested. Rizieq maintained that he will obey the police's questioning and denied going on the run. "I have always been at my house, and I never tried to evade the police," he said.
"I did not show at the previous police summons on December 1st and December 7th because of ill health, and I sent my lawyer to explain my inability to answer the [police's] summons. But if the police are going to arrest me, then I would obey them."
FPI's secretary Munarman reiterated Rizieq. "[Rizieq] hopes that the case against will not divert public attention from the police killing of 6 FPI members on a toll road outside Jakarta," he said of the incident, which also left four FPI members at large.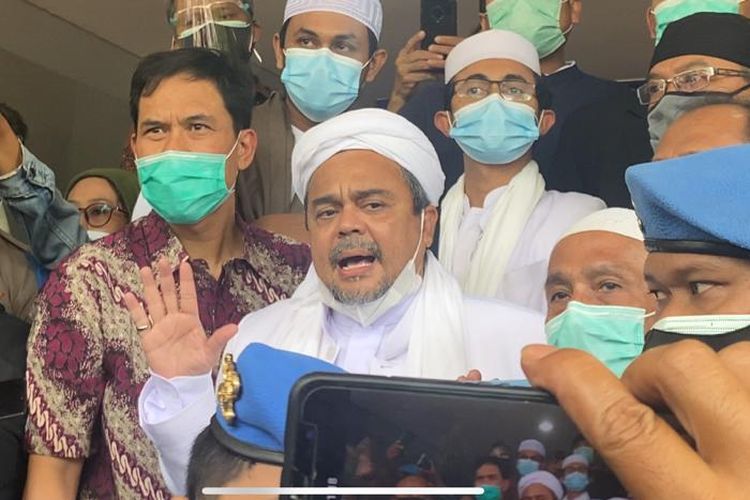 FPI chief Rizieq Shihab turns himself in at the Jakarta Metropolitan Police headquarters on Saturday (13/12/2020)
Also read: Indonesian Cleric Named Suspect for Holding Mass Gathering amid Pandemic
"The FPI will also call on the National Commission on Human Rights [Komnas HAM] to help investigate the incident."
The police said they killed the FPI members after the latter crashed into a police car shadowing them. The men then started to attack with sharp weapons and guns. The FPI denied instigating the attack, on grounds that they are not equipped with guns.
The police brought various charges against Rizieq, among them violating health protocols, inciting violence, and obstructing a police investigation. Aside from Rizieq, the police also charged five others as his accomplices in violating health protocols.
If found guilty, Rizieq and the other suspects face over than five years in jail for their offenses.
The police focused on him after he held large gatherings that violated health protocols instituted during the Covid-19 pandemic last November, soon after he returned from three years of exile in Saudi Arabia.
These include celebrations near his residence in Petamburan, Central Jakarta to mark the Prophet Muhammad's birthday, as well as his daughter's wedding reception on November 14.