JAKARTA, KOMPAS.com – Controversial Indonesian cleric Rizieq Shihab has been getting extensive media mileage since his return from a three-year exile in Saudi Arabia last month. And that attention isn't about to wane soon. Rizieq, leader of the Islamic Defenders Front (FPI), was named a suspect along with five of his followers in an investigation into a mass gathering that breached the Covid-19 health protocols recently.
Elsewhere, the Ministry of Health said that healthcare workers and assistants of healthcare workers who work at the healthcare facilities in the Java and Bali regions will be the first group to receive the Covid-19 vaccine.
This was revealed after President Joko Widodo announced the arrival of the first shipment of 1.2 million coronavirus vaccines from China-based pharmaceutical firm Sinovac Biotech Ltd recently last Sunday.
More details on these and other stories from Indonesia:
1. Indonesian Cleric Named Suspect for Holding Mass Gathering amid Pandemic
Rizieq Shihab, leader of the Islamic Defenders Front, greets his followers in Puncak, Bogor, West Java on November 13, 2020.
Jakarta Police has named Rizieq Shihab, leader of the Islamic Defenders Front (FPI), as a suspect for organizing a mass gathering during the Covid-19 pandemic in Petamburan, Tanah Abang in Central Jakarta on November 14, 2020.
The mass gathering was held to commemorate Prophet Muhammad's birthday and the wedding of Rizieq's daughter not too long after the FPI leader returned home from a three-year exile in Saudi Arabia. Previously, he fled the country upon facing charges of pornography and insulting state ideology, which were already dropped.
"The result of the police investigation concludes that there are six suspects in this case. The first is MRS [Muhammad Rizieq Shihab], who is charged under Articles 160 and 216 of the Criminal Code," said a spokesperson for Jakarta Police Senior Commissioner Yusri Yunus on Thursday, December 10.
An individual could face up to six years in jail under Article 160 if found guilty and up to four months and two weeks' imprisonment if found guilty of violating Article 216.
Police said the five other suspects are the head of the organizing committee for the event identified as HU; the organizing committee's secretary A; the person who was in charge of the security division MS; and SL and HI who were responsible for the rundown of the event.
"We have upgraded the status of these six people from witnesses to suspects," said Yusri.
They were named as suspects after the police conducted a case expose where the violation against the health protocols was found.
Source: https://go.kompas.com/read/2020/12/10/220600774/indonesian-cleric-named-suspect-for-holding-mass-gathering-amid-pandemic.
2. Healthcare Workers in Java, Bali to Get Covid-19 Vaccine First: Ministry of Health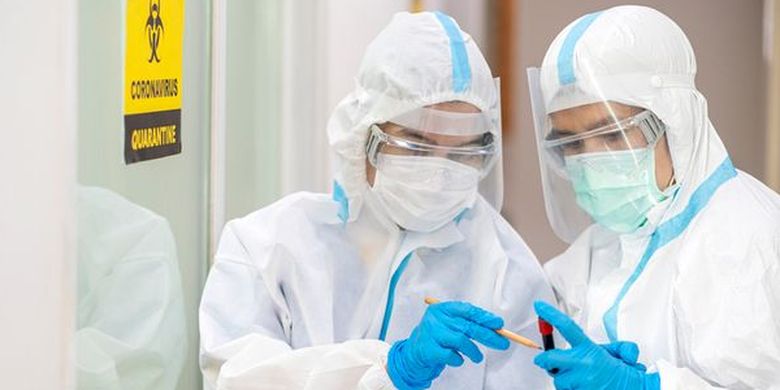 An illustration of healthcare workers.
Indonesian healthcare workers in Java and Bali islands will be the priority group to receive the 1.2 million doses of coronavirus vaccine that have recently arrived from China, an official said on Thursday.
Siti Nadia Tarmizi, a spokesperson for the Covid-19 mass vaccination program at the Ministry of Health, said that the vaccine developed by China's Sinovac will also be given to assistants for healthcare workers and support personnel at the healthcare facilities.
"[The vaccine] will be given to 1.2 million healthcare workers, assistants for healthcare workers, and support personnel at the healthcare facilities throughout Java and Bali regions," Nadia told Kompas.com on December 10.
She explained that the healthcare workers in Java and Bali are the top priority in Covid-19 vaccination because the two regions are Indonesia's most populous islands.
Besides, the highest number of Covid-19 cases is on Java island. "Java constitutes about 60 percent of our country's population and many Covid-19 cases are found in Java island," she said.
Source: https://go.kompas.com/read/2020/12/10/190503074/healthcare-workers-in-java-bali-to-get-covid-19-vaccine-first-ministry-of-health.
3. Indonesia Logs Over 6,000 New Covid-19 Cases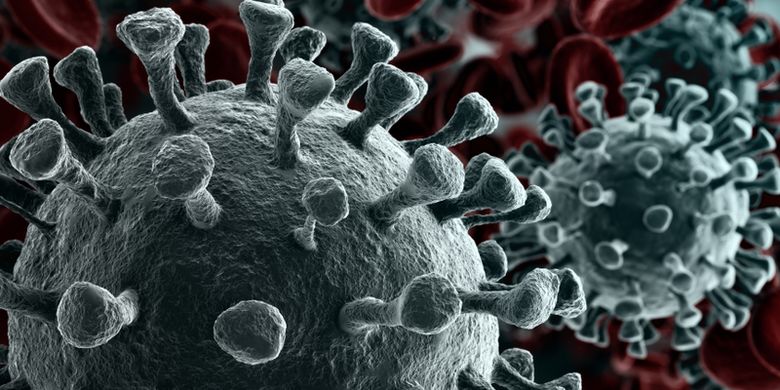 An illustration of coronavirus.
Indonesia through its Covid-19 National Task Force reported that the number of positive cases continues to increase as of Thursday, December 10.
Indonesia announced 6,033 new cases of Covid-19 on December 10, bringing the total to 598,933 since the first two cases were reported on March 2.
The Covid-19 National Task Force recorded that 4,530 people had recovered, taking the total number of recovery to 491,975.
Meanwhile, in the last 24 hours, 165 Covid-19 deaths were reported in the country. This latest number of deaths brings the cumulative number of Covid-19 deaths in Indonesia to 18,336.
Source: https://nasional.kompas.com/read/2020/12/10/16370721/update-bertambah-6033-kini-ada-598933-kasus-covid-19-di-indonesia
Dapatkan update berita pilihan dan breaking news setiap hari dari Kompas.com. Mari bergabung di Grup Telegram "Kompas.com News Update", caranya klik link https://t.me/kompascomupdate, kemudian join. Anda harus install aplikasi Telegram terlebih dulu di ponsel.