KOMPAS.com – Korean food has flourished in the Jakarta city food scene as the popularity of South Korea's cultural influence seeps into Indonesian society.
The rising trend of Korean drama and music has coincided with the number of Korean food restaurants popping up across the Indonesian capital city.
Korean fried chicken found its way into the hearts of Jakarta's foodies and judging from the number of stalls and restaurants serving up this dish, it looks as if it is here to stay.
Read also: Slurp Your Way to These 7 Locations for the Best Ramen in Jakarta
We have selected the best Korean fried chicken restaurants in Jakarta city when you are on a quest for this cult side dish.
1. KyoChon
KyoChon can be found throughout the capital city's many shopping centers including Pacific Place Mall, Pondok Indah Mall, Gandaria City, Kelapa Gading Mall 2, and the Hermina Hospital.
To create one of the best Korean fried chickens in Jakarta city, KyoChon's recipe calls for no MSG and fries the juicy meat in canola oil.
Before diners get to sink their teeth into a piece of KyoChon's hot, tender chicken, they can choose from different spices and sauces such as honey, soy garlic, and red pepper.
If you are a believer in carbs with your chicken dish, then you can order potato wedges, garlic butter rice, French fries, and many more.
Read also: Korean Food Chain Indonesia Lotteria Closes After Nine Years
Prices at this Korean restaurant in Jakarta city starts from as low as $0.82 (Rp 12,000) up to $13.60 (Rp 199,000) for a whole chicken.
2. Moon Chicken by Hangry
This Korean food restaurant in Jakarta is a budding eatery that sells fried chicken the same way as you would find in South Korea.
Choose among a plethora of sauces such as corn syrup, paprika, garlic, and Gochujang, and place a request whether you want your chicken dry or glazy.
Read also: Indonesia's Export Portfolio Expands to Include Tuna Shipments to South Korea
This Korean fried chicken restaurant in Jakarta can be found in the BSD area, Kedoya, Tebet, Kemang, Gading Serpong, Alam Sutra, and more. Prices start from $2.56 (Rp 38,000) up to $19.81 (Rp 290,000).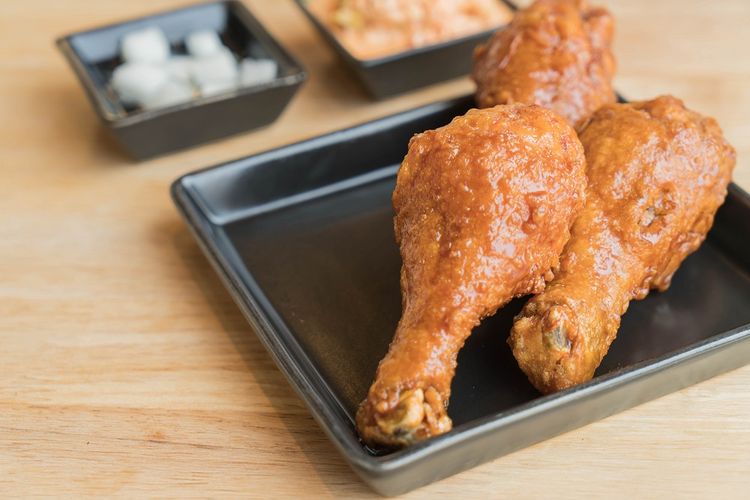 3. Holdak Crispy Chicken
If you're a resident of Indonesia's capital city, then surely you've heard of this fast-growing Korean food restaurant in Jakarta city.
Holdak Crispy Chicken offers the same tender bites of chicken coated in sweet or savory sauces ranging from barbecue, seaweed, sweet and spicy, and so much more.
Diners also get a side of cheese sauce and can choose the size of their chicken or even opt for a boneless.
Read also: Dine at These 5 Must-Try, Halal-Certified Buffet Restaurants in Jakarta
For side dishes, Holdak Crispy Chicken sells odeng, lapokki, tteokbooki, and Korean desserts.
You can find Holdak Crispy Chicken in Green Pramuka Square, City Plaza, and a slew of other locations across the city.
4. Ojju K-Food
For frequent visitors of the city's bigger shopping malls such as Grand Indonesia, Kota Kasablanka, Mall of Indonesia, Central Park, and Pondok Indah Mall, it is hard to miss Ojju K-Food.
The Korean fried chicken restaurant in Jakarta city made a big splash when it first opened offering tender, perfectly seasoned meat that is then wrapped in melted mozzarella cheese.
Read also: Indonesia, South Korea Discuss Covid-19 Handling, Migrant Workers Protection
You can also choose other Korean food specialties at this food eatery ranging from pajeon, japchae, and ramyun. Prices vary from $3.35 (Rp 49,000) - $17.00 (Rp 249,000).
5. Kkuldak
With its 'grab and go' concept, Kkuldak is a Korean fried chicken restaurant in the Jakarta city food scene that mall-goers find hard to resist.
Unlike its competitors, Kkuldak is known for its bite-sized fried chicken pieces generously coated in your preferred sauce and placed on top of tater tots and tteokbokki.
Kkuldak can be found in major shopping centers across Jakarta including Grand Indonesia, Kota Kasablanka, Neo Soho, Bassura Mall, AEON Mall BSD, and Summarecon Mall Serpong.
(Writer: Yana Gabriella Wijaya | Editor: Yuharrani Aisyah)
Source: https://www.kompas.com/food/read/2020/12/07/152959275/5-restoran-korean-fried-chicken-di-jakarta-makanan-ala-drama-korea?page=all#page2
Dapatkan update berita pilihan dan breaking news setiap hari dari Kompas.com. Mari bergabung di Grup Telegram "Kompas.com News Update", caranya klik link https://t.me/kompascomupdate, kemudian join. Anda harus install aplikasi Telegram terlebih dulu di ponsel.