Source:
https://go.kompas.com/read/2020/12/03/210945774/indonesia-condemns-west-papua-separatist-declaration.
2. Indonesian Police Arrest Individual for Spreading Appeal for Jihad
The Indonesian National Police used the Electronic Information and Transaction Law [UU ITE], as well as its own ongoing fight against radicalism, to nab a man in East Jakarta's Cakung district for sharng a video on Jihad that went viral.
"The suspect, who was identified as H, forwarded a video of [a Muslim call to prayer] on the Instagram account @hashophasan, which belonged to his brother," said Jakarta Metropolitan Police spokesman Police Chief Commissioner Yusri Yunus on Thursday, 3 December.
"In the video, the phrase calling for prayer was replaced with a call for jihad. That said, we are still trying to determine the motives behind H's actions."
Speaking in his capacity as chairman of the Indonesian Mosque Council or DMI, 2-time former Indonesian Vice-President Jusuf Kalla condemned the insertion for the call for jihad. "The call for jihad in the video can be misinterpreted as a call for violence in the name of Islam," he said.
"Mosques should not be used as a medium to promote violence against other religions. If that was allowed, then it would lead to incidents such as the recent attack in Sigi, Central Sulawesi that left a family of four dead."
If found guilty, H faces up to six years in jail for his stunt.
Source:
https://megapolitan.kompas.com/read/2020/12/03/17562991/polisi-tangkap-penyebar-video-ajakan-jihad-dalam-azan?page=all#page2.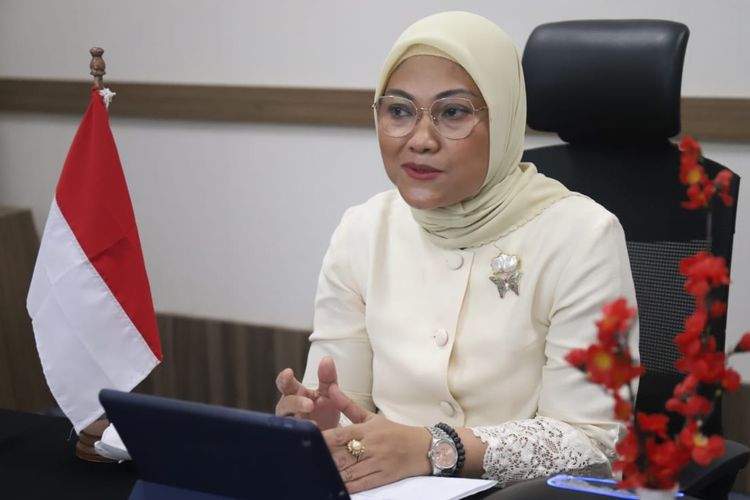 Labor Minister Ida Fauziyah at a virtual meeting on Thursday (3/12/2020)