JAKARTA, KOMPAS.com – Islamic Defenders Front (FPI) chief Rizieq Shihab has apologized for convening large gatherings that defied health protocols, following his return from three years of exile in Saudi Arabia on November 10.
"I would like to convey my apologies to the public for holding mass rallies at Soekarno-Hatta Airport, Jakarta, as well as at Bogor, West Java," he said at an online gathering of the 212 Reunion Rally political organization streamed on FPI's Front TV YouTube channel on Wednesday, December 2.
"I particularly regret that the gatherings quickly got out of control, and so call on [FPI members] not to form crowds. I will also cancel upcoming gatherings until the Covid-19 pandemic is officially over."
Also read: Police Deepen Probe into Islamic Defenders Front's Health Protocol Violations in Indonesia
Sporting a mask and face shield in the meeting, which also featured opposition politicians such as Amien Rais and Fadli Zon, Rizieq called on his followers to comply with health protocols.
"Abide by health protocols like washing hands as doing so is part of faith. Let us face [Covid-19] together until Allah lifts it [from the world]," he added.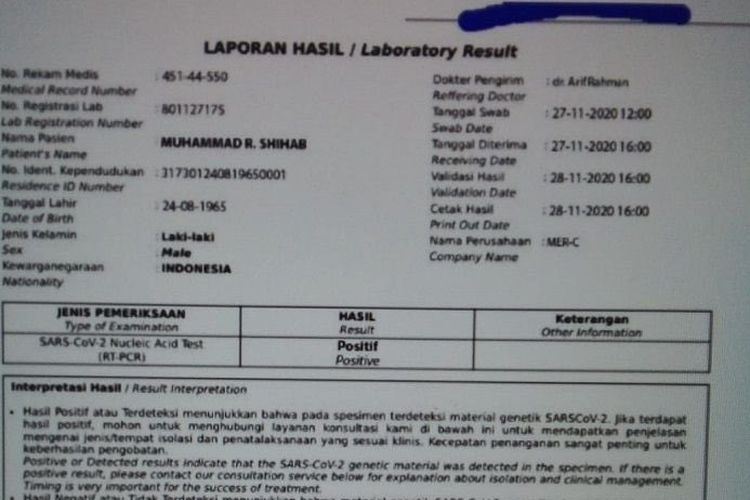 Results of a swab test showing Rizieq Shihabs Covid-19 positive diagnosis, as seen in social media
Meanwhile, a photo showing Rizieq's Covid-19 positive swab test has gone viral on social media. Dated November 28 from a test held the previous day, the image prompted a backlash from MER-C, the medical organization that allegedly issued the results.
"Rizieq did take his swab test that day. But [MER-C] did not issue that particular diagnosis, much less uploaded it online," said MER-C Presidium Chairman Sarbini Abdul Murad.
Also read: Indonesian National Police Takes Fallout from Return of Political Firebrand
"The results [of the test] are already disclosed with Rizieq's family in accordance with patient-doctor confidentiality agreement. MER-C has no right to announce the outcome."
Rizieq was thought to take the test as he was treated at the Ummi Hospital in Bogor, West Java. He caused a crisis during his time getting treatment at the hospital, as the swab test was carried out without the knowledge of Ummi or the Bogor branch of the Covid-19 Task Force.
The controversy deepened after MER-C's laboratory is not authorized to check Covid-19 samples.
(Writers: Ihsanuddin, Muhammad Isa Bustomi | Editors: Jessi Carina, Irfan Maullana)
Sources:
https://megapolitan.kompas.com/read/2020/12/02/13091901/saat-reuni-212-rizieq-shihab-minta-maaf-telah-timbulkan-kerumunan?page=all#page2.
https://megapolitan.kompas.com/read/2020/12/02/11262041/foto-viral-surat-hasil-swab-rizieq-positif-covid-19-mer-c-bantah.
Dapatkan update berita pilihan dan breaking news setiap hari dari Kompas.com. Mari bergabung di Grup Telegram "Kompas.com News Update", caranya klik link https://t.me/kompascomupdate, kemudian join. Anda harus install aplikasi Telegram terlebih dulu di ponsel.