JAKARTA, KOMPAS.com – The Indonesian Foreign Ministry announced that Indonesians in the Midwestern United States are safe and accounted for, after a gunman in the US state of Wisconsin opened fire in a mall, wounding eight people.
Closer to home, Indonesian Military Chief Air Marshal Hadi Tjahyanto acknowledged the major role social media plays in influencing public opinion even as he warned about the medium's pitfalls.
In other news, the Ministry of Home Affairs revealed a potential weakness of the Islamic Defenders Front [FPI's] that undermines the group's primary strength of mustering its followers.
And in sports, Indonesia lost one of its legends in soccer, as SEA Games winning striker Ricky Yacobi has died at the age of 57. His death came two months after the death of Austrian born national team coach Alfred Riedl, who passed away last September. Read on to get more details of these news items:
Illustration of social media
1. Indonesian Military Commander Warns of Social Media's Potential to be Misused
Indonesian Armed Forces [TNI] Commander Air Marshal Hadi Tjahjanto has warned that social media like Facebook, Instagram and Twitter are liable to be misused as propaganda.
"Social media is an effective tool in any information and ideological struggle because of their reach and versatility," he said. This is epitomized by the use of hashtags and trending topics to disseminate information quickly to netizens and shape public opinion."
Hadi conveyed concerns that the information being given out is sensitive or misleading information. "This information, coupled with provocative language, might further divide society and set them against the government by promoting separatism, such as those in Papua."
While he acknowledged that speed of internet technology made life easier through e-commerce and webinars, among other things, he still called on the government to regulate cyberspace on grounds that "what happens online happens in the real world."
Sources:
https://nasional.kompas.com/read/2020/11/21/10262391/panglima-tni-suka-tidak-suka-kita-harus-akui-medsos-telah-dimanfaatkan.
https://nasional.kompas.com/read/2020/11/21/11022371/panglima-tni-sebut-negara-perlu-atur-kehidupan-dunia-maya.
https://nasional.kompas.com/read/2020/11/21/11083831/panglima-tni-sebut-upaya-separatisme-juga-dilakukan-lewat-media-sosial.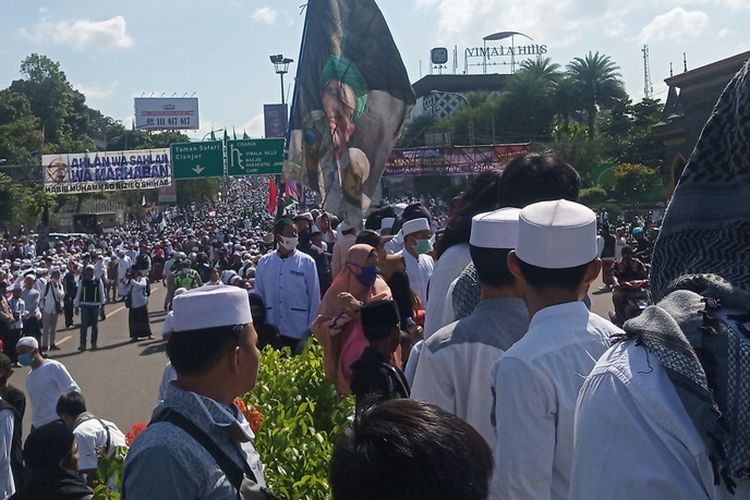 FPI rally in Bogor, West Java [13/11/2020]
2. FPI Operational Permit Expires
The Home Affairs Ministry has disclosed information that can undermine the Indonesian Defenders Front [FPI's] activities in the near future. "The Home Affairs Ministry does not recognize the FPI, as their operational permit has expired and so they are not registered," said the Ministry's spokesman Benny Irwan.
"The FPI's permit, which has to be renewed every five years, expired on 20 June 2019. They did intend to renew the permit, but we cannot meet their request because they did not have articles of association or bylaws." As such, Benny added, the FPI is not allowed to hold any gatherings
But FPI spokesman Munarman insisted that the lack of a permit would not stop them, on grounds that their right to organize and assemble is guaranteed under Indonesia's 1945 Constitution.
Sources:
https://nasional.kompas.com/read/2020/11/21/17300121/fpi-tak-punya-skt-kemendagri-statusnya-tidak-diakui.
https://nasional.kompas.com/read/2020/11/21/18042131/kemendagri-ungkap-penyebab-fpi-tak-terdaftar-sebagai-ormas?page=all#page3.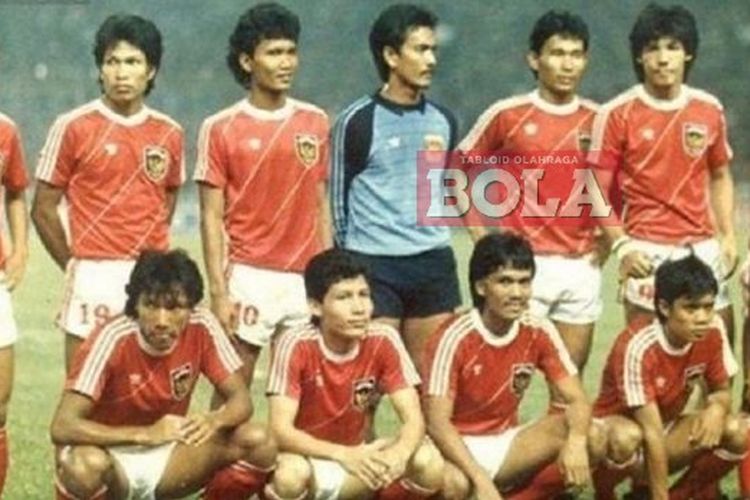 Ricky Yacobi (right) with members of the gold-medal winning Indonesian national team at the 1987 Sea Games
3. Indonesian Soccer Legend Ricky Yacobi Dies
Indonesian soccer has lost one of its leading sports figures, as former soccer star Ricky Yacobi has died on 21 November at the age of 57. His death came two months after the passing of Indonesian national team coach Alfred Riedl last September.
"Ricky experienced a heart attack as he was playing soccer in Jakarta's Senayan Sports Complex. He passed away at the Mintoharjo Navy Hospital," his family said.
Known as the "Indonesian Paul Breitner" after the German World Cup winning attacking midfielder, Ricky received 31 caps for the Indonesian national team between 1985 to 1991, scoring five goals.
The Medan, North Sumatra native was a fixture in the Garuda national squad, and was known for his "exceptional speed and explosive movements that often confused opponents…as well as his instinct for goals," noted then Bola sports tabloid reporter M. Nigara.
Ricky contributed to the Garuda's gold medal run in the 1987 SEA Games by scoring in the quarterfinals and semifinals.
Indonesia won by beating perennial rivals Malaysia 1-0 in the final at Jakarta's Gelora Bung Karno Stadium on 20 September 1987, courtesy of his teammate Ribut Waldi's goal.
Prior to SEA Games glory, Ricky also made the headlines with a goal against the United Arab Emirates at the 1986 Asian Games.
He was also the first Indonesian player to play overseas, as he played for the Japanese league side Matsushita FC in 1988. However, his tenure there was more lackluster, as he only featured in six games, scoring one goal.
Yet he still hit the pitch following his retirement from soccer, as he founded the Ricky Yacobi Soccer School in Jakarta, of which he was still in charge at the time of his death.
Source:
https://bola.kompas.com/read/2020/11/21/11305638/ricky-yacobi-meninggal-dunia-ini-perjalanan-karier-sang-legenda-di-timnas?page=all.
Dapatkan update berita pilihan dan breaking news setiap hari dari Kompas.com. Mari bergabung di Grup Telegram "Kompas.com News Update", caranya klik link https://t.me/kompascomupdate, kemudian join. Anda harus install aplikasi Telegram terlebih dulu di ponsel.