KOMPAS.com – The Indonesian city of Yogyakarta may be known for its gudeg, but on a hot day, it doesn't beat indulging in ice cream.
Knowing where to eat in Yogyakarta will certainly help narrow your choices in a city teeming with food vendors offering delectable dishes of all sorts.
Kompas.com has selected the top four Yogyakarta food eateries of the cold variety from gelato to traditional Indonesian desserts.
Read also: Try the Famous 'Gudeg' at These Locations in Yogyakarta, Indonesia
1. Tempo Gelato
The first place on where to eat in Yogyakarta takes you to one of the most famous ice cream restaurants in the city, Tempo Gelato.
The place is a staple in the area thus has achieved immense success evidenced by its three locations at Jalan Prawirotaman Nomor 43, Jalan Kaliurang KM 5.2 Nomor 28, and Tempo Gelato Tamansiswa in Wirogunan, Mergangsan.
It is also situated in close proximity to the famous Malioboro Street. When it is humid outside and your tastebuds are telling you to get some cold Yogyakarta food, then why not spoil yourself with Tempo Gelato's ice cream.
Opens every day from 10:30am-9:30pm, you can try classic flavors such as chocolate and strawberry, or opt for fruity sorbets or their exotic spice blend flavor.
Furthermore, the ice cream sold here is made with natural ingredients and is free from any preservatives or artificial coloring which makes it a great place to stop by for a quick snack.
Read also: The First Cereal Bar in Yogyakarta, Indonesia is Haven for Breakfast Fiends
For an ice cream cone with two flavors, it will cost you $1.71 (Rp 25,000) and a cup of ice cream will set you back $1.37 (Rp 20,000).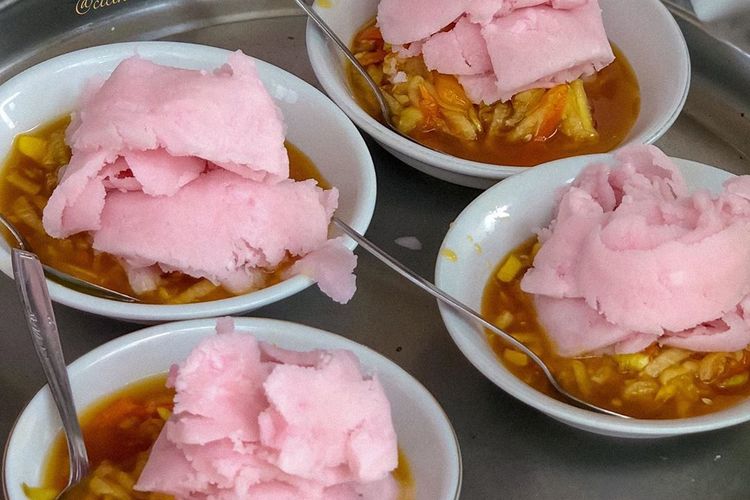 2. Rujak Es Krim Pak Nardi
Rujak is Indonesian fruit and vegetable salad and at this eatery, the dish is paired with refreshing ice cream thus bringing together a harmonious combination of spicy, sweet, sour, and creamy.
You can find this food stall near Malioboro Street specifically by the roadside near Pakualaman Castle.