JAKARTA, KOMPAS.com – When planning a trip to Indonesia's Central Java island, be sure to include trying the best Yogyakarta food gudeg that is famous in the region.
Gudeg is an Indonesian Jackfruit Stew that has become the face of Yogyakarta street food.
As you travel around the Central Java city, you will easily notice numerous food vendors selling gudeg using their individual recipes and cooking techniques.
Kompas.com has selected the top eight food eateries to get your share of gudeg during your future travel to Central Java.
Read also: 4 Tips to Get the Best Bargain at Yogyakarta, Indonesia's Historic Malioboro Street
No matter which vendor you choose, let us remind you to follow Covid-19 health protocols at any of the locations you visit in Indonesia.
1. Gudeg Mbah Lindu
Not only is gudeg considered the best Yogyakarta food, but Mbah Lindu was one of Yogyakarta's oldest gudeg vendor until her death on July 12, 2020 at the ripe age of 100. Her daughter Ratiyah has stepped up as her successor.
Her version of this Yogyakarta street food has become so famous that it was featured in the Netflix documentary series "Street Food: Asia" in 2019 further catapulting her culinary stardom.
Located at Jalan Sosrowijayan and directly in front of the Grage Ramayana Hotel or around 300 meters from the historic Malioboro Street, you can order a plate of the Indonesian Jackfruit Stew every day from 5am-10am.
Read also: Prambanan Temple in Yogyakarta, Indonesia to Allow 7,000 Daily Visitors
The sheer popularity of Mbah Lindu's iconic food makes it quick to sell out so be sure to visit as early as possible otherwise you will miss out.
The best part about Yogyakarta street food is that it is inexpensive thus a portion of gudeg by Mbah Lindu only costs $1.37 (Rp 20,000).
2. Gudeg Yu Djum
Gudeg Yu Djum can be found at Jalan Wijilan where travelers can enjoy the sweet palatable flavor known about this best Yogyakarta food staple.
Cooked in a traditional way using firewood, plenty of tourists find themselves coming back to this food eatery when they return to the city.
The price range at this location starts from less than $0.68 (Rp 10,000) and up to $12.30 (Rp 180,000) for larger portions with premium side dishes.
The eatery has five branches with the first and primary location in Jalan Kaliurang, Karangasem.
3. Gudeg Permata
For a more traditional way of dining in then this food eatery at Jalan Gajah Mada near the former Permata Cinema may be just for you.
Gudeg Permata is an establishment when it comes to the Yogyakarta street food of gudeg since it first opened in 1951.
Read also: Live in the Lap of Luxury at These Palatial Resorts in Yogyakarta, Indonesia
Using a recipe that has been passed on from generation to generation, the owners continue to make the Indonesian Jackfruit Stew taste as authentic as it gets.
You can try their take of the best Yogyakarta food for only $1.37 (Rp 20,000), and when they open every evening from 9pm-2am.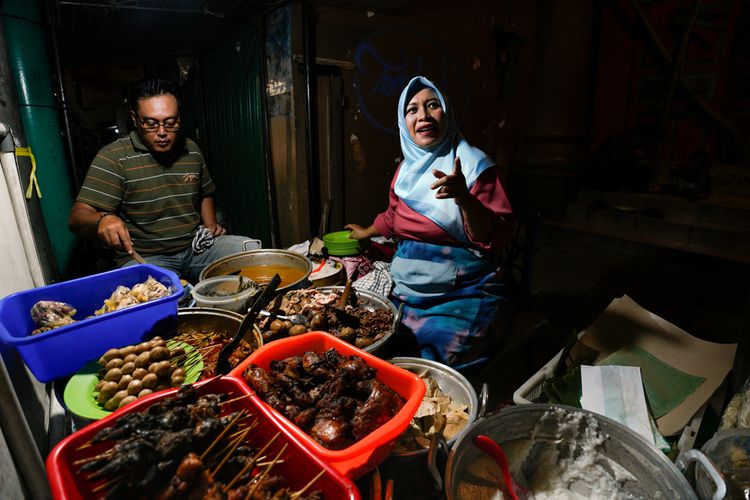 4. Gudeg Mercon Bu Tinah
Opened in 1992, this eatery offers a spicier take on the best Yogyakarta food of gudeg which has sent those with a spicy tastebud returning for more.
You can add some Fried Vegetable Fritters, Chicken Feet, and many other side dishes to your stew.
The price range at this location is between $1.02 (Rp 15,000) until $1.71 (Rp 25,000) which you can enjoy every evening from 9:30pm1am.
5. Gudeg Pawon
With its beautifully blended sweet and savory flavors, Gudeg Pawon has risen to the food scene since it first opened in 1958.
Located at Jalan Janturan 36-38, Warungboto, the food eatery cooks the Yogyakarta street food with pure coconut milk and a slew of seasonings that keep the queues long every day.
Read also: Indonesia Charts New Routes for Cycle Tourists in Cultural Capital Yogyakarta
You won't have to wonder what the best Yogyakarta food tastes like especially because you only need to pay between $0.75 (Rp 11,000) until $1.71 (Rp 25,000) for a portion of the Indonesian Jackfruit Stew depending on the side dishes you choose.
Gudeg Pawon opens each night from 9:30pm-12am.
6. Gudeg Sagan
Located at Jalan Profesor Dr Herman Yohanies Nomor 53, this restaurant opens from 7am–12am.
Their rendition of the Yogyakarta street food includes a generous helping of gudeg broth which adds to the flavor and tastes of this sweet and savory dish.
Read also: Don't Miss These Must-Try and Inexpensive Balinese Food Eateries
Prices here range from $$0.61 (Rp 9,000) to $1.85 (Rp 27,000) depending on the side dishes you choose.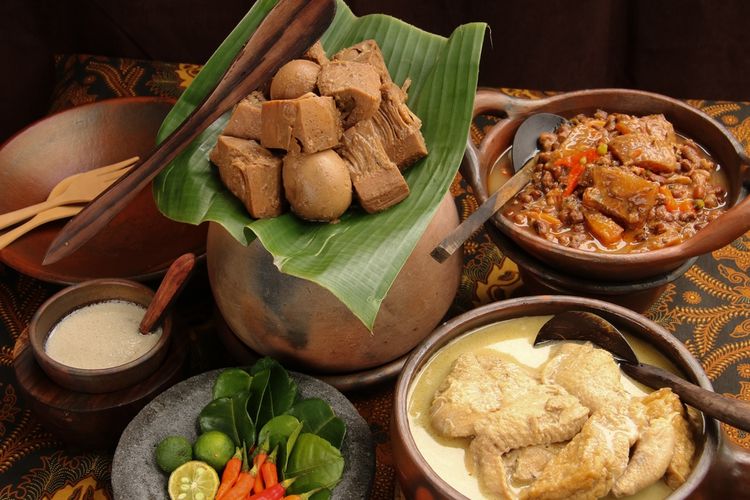 7. Gudeg Manggar Bu Jamilan
Using young coconut flowers is what gives the unique flavor to the Indonesian Jackfruit Stew offered at Gudeg Manggar Bu Jamilan in Jalan Srandakan KM 8, Bantul Regency.
Open from 8am-3pm and for an affordable price range of $0.55 (Rp 8,000) until $1.61 (Rp 17,000), you can try this legendary restaurant's take on the best Yogyakarta food gudeg.
8. Gudeg B Djuminten
Considered as one of the legendary gudeg food eateries in Yogyakarta, the place was first established in 1926 and has been managed by three generations.
Read also: Where to Eat in Lombok for Flavorful Traditional Food
The thick consistency of their broth combined with the smooth sweet and salty taste that hits the tastebuds just right has propelled Gudeg B Djuminten at the top of the must-visit places for this Yogyakarta street food.
For $0.95 (Rp 14,000) until $3.07 (Rp 45,000), you can enjoy a plate of their renowned gudeg when you stop by at Jalan Asem Gede Nomor 14, Cokrodiningratan, Jetis, Yogyakarta.
(Writer: Syifa Nuri Khairunnisa | Editor: Yuharrani Aisyah)
Source: https://www.kompas.com/food/read/2020/07/13/155500475/8-tempat-makan-gudeg-di-yogyakarta-dari-mbah-lindu-sampai-yu-djum?page=all#page2
Dapatkan update berita pilihan dan breaking news setiap hari dari Kompas.com. Mari bergabung di Grup Telegram "Kompas.com News Update", caranya klik link https://t.me/kompascomupdate, kemudian join. Anda harus install aplikasi Telegram terlebih dulu di ponsel.