JAKARTA, KOMPAS.com – The Indonesian National Armed Forces or TNI have moved to crack down on servicemen who overtly welcomed Islamic Defenders Front [FPI] head Rizieq Shihab home, following his three-year exile in Saudi Arabia.
They decided to take the step after two soldiers recorded and uploaded videos expressing their well wishes to the firebrand cleric as he returned to Indonesia on 10 November 10.
The Indonesian Air Force announced that they arrested and questioned a Sergeant identified as BDS on Thursday, November 12 for recording and uploading a 25-second video welcoming Rizieq home and assuring that many soldiers shared the same sentiments went viral.
Also read: Muslim Cleric Rizieq Shihab's Homecoming Paralyzes Jakarta
"BDS violated military discipline because he voiced his support for a political faction. True to its name, the TNI is politically neutral and should not take political sides," said Indonesian Air Force spokesman Air Commodore Fajar Adriyanto on Friday, November 13.
"However, we released him as his offense did not pose a danger to himself or others. But we are keeping him under surveillance, which means we are liable to summon him again at any time."
BDS' offense is similar to that committed by Indonesian Army Lance-Corporal Asyari Tri Yudha, who chronicled his unit's deployment to secure Soekarno-Hatta Airport for Rizieq's homecoming.
"We did not [sanction] Tri for enthusiastically welcoming Rizieq home, and we never disallowed our personnel from expressing such sentiments," said Jakarta Regional Command spokesman Colonel Refki Efriandana Edwar on November 12.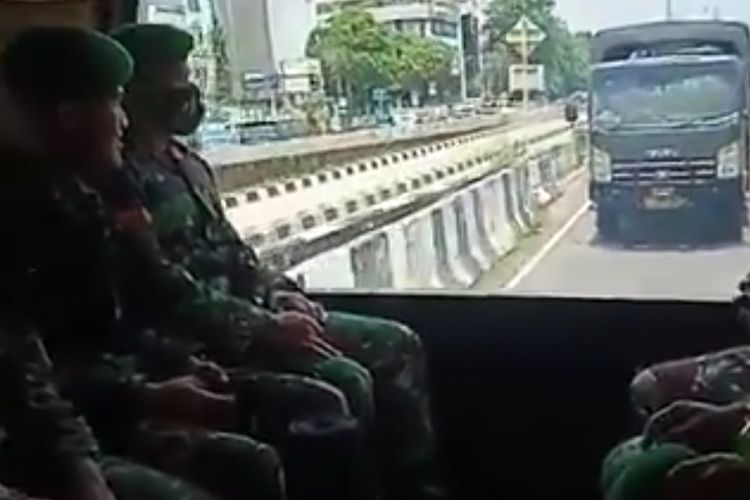 A screenshot of Indonesian Army personnel deployed to Soekarno Hatta Airport to provide security for FPI chief Habib Rizieq Shihabs homecoming on (10/11/2020)
Also read: Muslim Groups Protest Before the French Embassy in Jakarta
"He was penalized for violating our disciplinary rules because he disclosed the location of his unit to the public via social media, which breached our oath on secrecy. He was also on social media when he should have been on the job."