JAKARTA, KOMPAS.COM - Indonesia marked its 75th National Heroes Day on 10 November, with a tumultuous 24 hours that many of the country's national heroes would have found all too familiar.
Three years of exile has not lessened Islamic Defenders Front or FPI chief Rizieq Shihab's appetite for chaos, as his subordinates' enthusiastic reception in Indonesia's main airport caused the delay and cancellation of dozens of flights and traffic jams all the way to the center of Jakarta.
The Indonesian Doctors Association [IDI] highlighted the losses that Covid-19 continued to inflict on Indonesia's health workers. The IDI noted that nearly 300 doctors and nurses succumbed to the pandemic, more than eight months after it was detected in Indonesia.
And President Joko Widodo marked Indonesia's 75th National Heroes Day by naming six historical figures from Indonesia's colonial past as well as the heady early years of the country's independence. Read on for more details on these stories, as they are curated by our editors: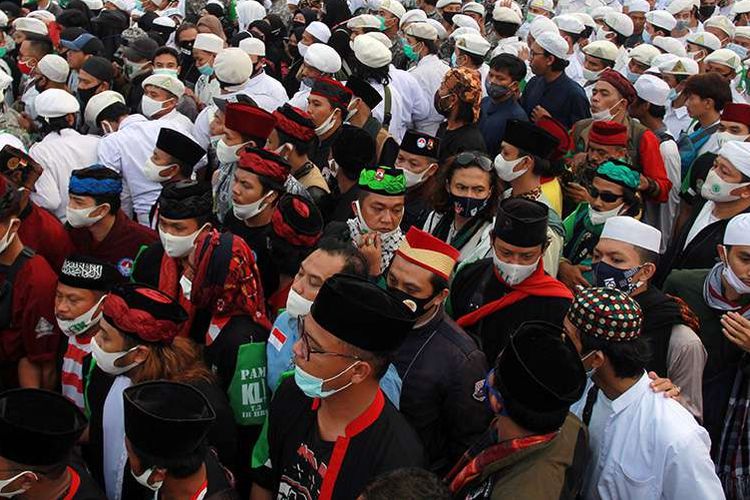 Mass of Islamic Defenders Front [FPI] members await the return of exiled chief Habib Rizieq Shihab at the Soekarno-Hatta Airport [10/11/2020]
1. Indonesian Muslim Cleric Rizieq Shihab's Homecoming Paralyzes Jakarta
Thousands of people from the Islamic Defenders Front ( FPI) vigilante organization welcomed their chief Rizieq Shihab home from his three-year exile in Saudi Arabia on November 10, three years after he fled to the country in 2017, when the Indonesian National Police declared him a prime suspect in a pornography case. "If Allah has willed [that I] should return [to Indonesia], no force can [stop me]!," the firebrand cleric said to his followers in Central Jakarta's Petamburan district.
The Jakarta Metropolitan Police noted that the FPI rally shut down traffic and the Transjakarta bus routes near Petamburan. Earlier in the morning, they paralyzed Jakarta's Soekarno Hatta Airport earlier that morning from 5am to 10am to welcome Rizieq home.
"[The FPI's visit] has disrupted 28 flights. Some were delayed by 1 to 3 hours, while others were canceled altogether," said Transportation Ministry Director General for Air Transport Novie Riyanto.
Angkasa Pura II airline insurance Branch and Communications Senior Manager Haerul Anwar reiterated Novie.
"A number of airlines such as Lion Air, Batik Air, Garuda Indonesia, Sriwijaya and Citilink have rescheduled their flight schedules and offered to refund passengers who missed their flights today," Haerul said.
The FPI is notorious for using Islam as a pretext to terrorize individuals or businesses since its founding in August 1998.
Source:
https://megapolitan.kompas.com/read/2020/11/10/14554331/di-depan-simpatisannya-rizieq-shihab-beberkan-alasan-pulang-ke-indonesia?page=all.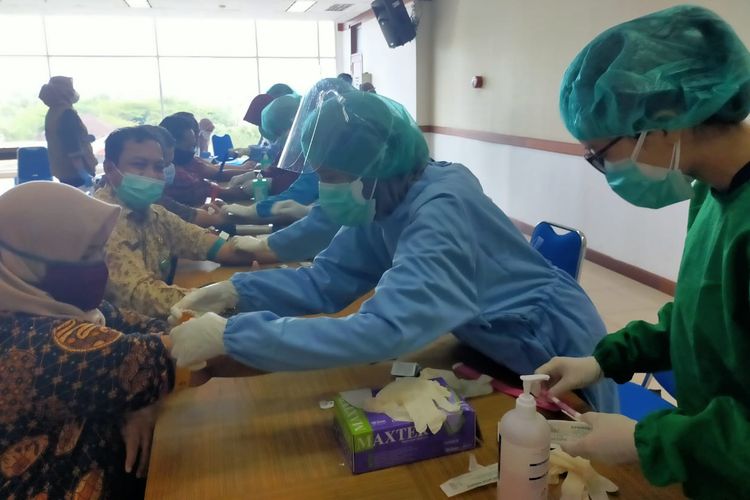 Health workers in Nunukan Regency, North Kalimantan carry out health tests in the offices of the regent
2. Indonesian Doctors Association: Covid-19 Claims the Lives of 282 Health Workers
The Indonesian Doctors Association [IDI] noted that 282 doctors and nurses have died combating Covid-19, since the pandemic was first detected in the country last March.
"[The death toll] is made up of 168 doctors, including nine dentists, and 114 nurses," said IDI Mitigation Team Chief Adib Khumaidiin a press release dated 10 November.