Jakarta, KOMPAS.com - Indonesian President Joko Widodo joins other world leaders such as British Prime Minister Boris Johson and German chancellor Angela Merkel in congratulating US President-elect Joe Biden, after he beat incumbent President Donald Trump in the US Presidential race.
Closer to home, Jakarta Governor Anies Baswedan decided to play it safe by extending the transitory Large-Scale Social Restrictions in Jakarta until November 22, as the number of Covid-19 cases continued to decrease.
Authorities in Yogyakarta are bracing for Mount Merapi to erupt, after they detected a lava stream near its peak. Read on to get more details of these news, as prepared by our editors:
1. President Jokowi Congratulates US President-Elect Joe Biden
Indonesian President Joko 'Jokowi' Widodo has congratulated President-elect Joe Biden and his running mate Kamala Harris, after they beat incumbent President Donald Trump and Vice-President Mike Pence in the 2020 US presidential election.
"My warmest congratulations @JoeBiden and @KamalaHarris on your historic election. The huge turn out is a reflection of the hope placed on democracy," said Jokowi on his Instagram account @jokowi on Sunday, 8 November.
"Look forward to work closely with you in strengthening Indonesia-US strategic partnership and pushing forward our cooperation on economy, democracy and multilateralism for the benefit of our two people [sic] and beyond."
Jokowi joined other world leaders such as British Prime Minister Boris Johnson, German Chancellor Angela Merkel in congratulating the 77-year old Biden, a veteran politician who served as US President Barack Obama's Vice President from 2008 to 2016.
Source:
https://nasional.kompas.com/read/2020/11/08/12114221/presiden-jokowi-ucapkan-selamat-kepada-joe-biden-dan-kamala-harris.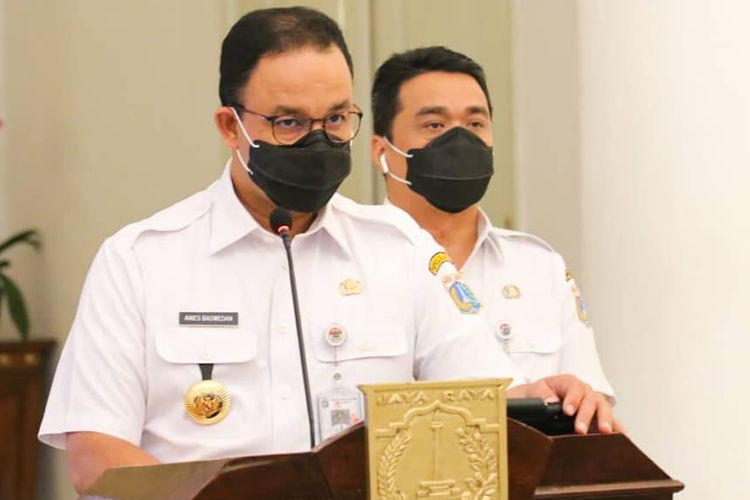 Jakarta Governor Anies Baswedan (left) and Deputy Governor Achmad Riza Patria, announces his decision to reimpose partial lockdown from September 14 to stem the spread of the Covid-19 in the Indonesian capital.