KOMPAS.com – Kelingking Beach is so popular that it can outshadow other magnificent beaches in Nusa Penida, Indonesia.
When you're on the island, visiting Kelingking Beach is the obvious choice given that the beach is ranked as Asia's ninth most beautiful beach according to CNN Travel.
It is also ranked as the world's 19th most beautiful beach according to TripAdvisor.
Read also: Book a Stay at These 6 Budget-Friendly Accommodations in Ubud, Bali
However, there are plenty other beaches in Nusa Penida that offer the same relaxing ambiance and exoticism of this island which Kompas.com has curated below.
1. Angel's Billabong
Angel's Billabong boasts crystal blue waters that are surrounded by colorful coral reefs in the shade of green and yellow.
What makes this beach unique is its shaped waves resulting from a change of direction in the river water flow.
Both sides of the beach are accentuated with naturally-shaped reefs that look like the shape of a winding hallway giving it its namesake.
Read also: 425 Hotels in Bali Certified for Compliant with Covid-19 Health Protocols
2. Broken Beach
Foreigners know it as Broken Beach, but the locals call it Pasih Uug, which means ... well, a broken beach.
A cliff surrounds a part of the beach forming a circle and although the beach derived its name from being broken, the view you get is anything but that.
Be ready to be captivated by the ocean waves because it is truly magnificent!
3. Crystal Bay Beach
One of the more untouched beaches in Nusa Penida is Crystal Bay Beach on the western part of the island near Sakti Village.
The crystal clear water gave the beach its namesake where it is complemented by white sand, two capes, and a small reef at the center making it a top contender in Nusa Penida's best beaches.
Read also: Bumpy Road to Restoring Indonesia's Tourism Sector during Pandemic
You can explore an island with a small reef that sits 50 meters from the shoreline which is this Nusa Penida beach's attraction.
The reef, called Mejineng Rock, has a layer of natural protection that prevents harsh hits from big waves.
With the soothing melodies of the ocean waves and wind, it is easy to understand why Crystal Bay Beach is the go-to location for a truly relaxing experience. In fact, this Nusa Penida beach is as stunning as Kelingking Beach.
4. Atuh Beach
Atuh Beach in Nusa Penida is one of the best tourist attractions east of the island.
To access the island, travelers must make a crossing from Sanur Bali Port to Banjar Nyuh Port which is the gateway to Nusa Penida Island.
Read also: Indonesia's Maluku Islands Ready to Become a Plastic-Free Tourism Destination
The best time to be at the beach is 5:30am local time because Atuh Beach faces towards the east, giving you optimized views of the sunrise.
The morning air at the beach is also another attractive feature of this tourist attraction in Indonesia.
The Atuh Tourism Zone boasts cliffs that the locals call 'King Lima', a name that is associated with Raja Ampat in Papua.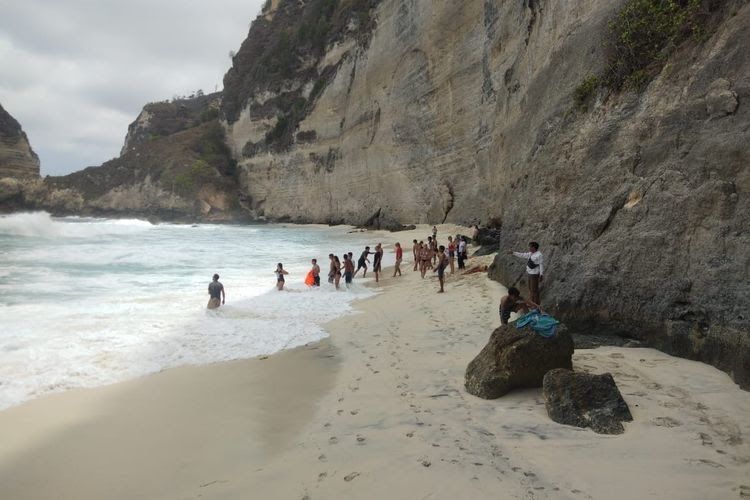 This Nusa Penida beach is located in the same area as Atuh Beach and like its name, the cliffs reflect the shape of a diamond.
5. Diamond Beach
This Nusa Penida beach is located in the same area as Atuh Beach and like its name, the cliffs reflect the shape of a diamond.
To reach Diamond Beach, you have to climb down a flight of stone stairs with a safety railing.
Read also: For a Fleeting Moment There, Two Bali Beaches Came Back to Life
Unlike Atuh Beach, Nusa Penida's Diamond Beach has not been fully developed as of yet thus not many traditional shacks can be found here.
The beach's staircase is a favorite photo spot with the background of the gorgeous rock cliffs.
(Writer: Nur Rohmi Aida | Editor: Sri Anindiati Nursastri)
Source: https://travel.kompas.com/read/2019/06/25/080900327/selain-kelingking-ada-5-pantai-di-nusa-penida-yang-tak-kalah-elok
Dapatkan update berita pilihan dan breaking news setiap hari dari Kompas.com. Mari bergabung di Grup Telegram "Kompas.com News Update", caranya klik link https://t.me/kompascomupdate, kemudian join. Anda harus install aplikasi Telegram terlebih dulu di ponsel.