JAKARTA, KOMPAS.com - Events outside Indonesia's borders loomed large as much of the country is enjoying a long holiday weekend celebrating the birthday of the Prophet Muhammad.
President Joko 'Jokowi' Widodo is not among those feeling the holiday spirit, as he condemned French President Emmanuel Macron for stoking sectarian tensions in the Muslim-majority world following his comments on 'Islamic separatism' in France.
The chairperson of Jokowi's political vehicle, the Indonesian Democratic Party of Struggle or PDI-P Party Megawati Soekarnoputri is feeling anything but festive, as she stuck to her criticism of Indonesian millennials for their role in protests against the government's jobs law.
And lastly, the Indonesian government is watching who is naughty or nice on social media, after a young man in West Nusa Tenggara province turned himself in to the authorities after they sought him out for insulting the National Police and Parliament.
Read on to get more details on these news stories, which were curated by our news editors.
Police officers stand guard near Notre Dame church in Nice, southern France, Thursday, Oct. 29, 2020. An attacker armed with a knife killed at least three people at a church in the Mediterranean city of Nice, prompting the prime minister to announce that France was raising its security alert status to the highest level. It was the third attack in two months in France amid a growing furor in the Muslim world over caricatures of the Prophet Muhammad that were re-published by the satirical newspaper Charlie Hebdo. (Eric Gaillard/Pool via AP)
1. President Jokowi Condemns French President Emmanuel Macron's Comments on Islam
President Jokowi conveyed his concerns over the religiously charged tensions in France after the satirical magazine Charlie Hebdo republished cartoons mocking the Prophet Muhammad last September, along with President Emmanuel Macron's reluctance to address the issue.
"Indonesia strongly condemns the deadly attacks in Paris and Nice [which killed 4 people]," the President said in a virtual press conference on Saturday, 31 October. He spared the brunt of his criticism for Macron.
"Indonesia also strongly condemns President Macron's statement [on Islamic separatism in France], as it is offensive to Muslims around the world. His comments potentially undermine religious worldwide, at a time when we need to unite to face the Covid-19 pandemic."
Jokowi underlined his message by featuring Muslim, Christian, Hindu and Buddhist as well as Confucianist clerics representing the religious faiths practiced in Indonesia.
"Freedoms of expression that dishonor the sanctity and symbols of any religion cannot be justified and must stop. Linking religion to terrorism is a big mistake," the 58-year old asserted. "Terrorism is terrorism. It has nothing to do with religion."
Macron vowed to fight 'Islamic separatism' in France following the beheading of Samuel Paty, a schoolteacher who showed the offending cartoons to his students, by a Chechen Muslim earlier this October.
The statement triggered a chain of violent reactions, among them a knife attack by a Tunisian refugee which killed 3 people in Nice on 29 October, and calls in Muslim majority countries like Saudi Arabia and Turkey to boycott French products.
Source:
https://nasional.kompas.com/read/2020/10/31/14553841/jokowi-kecam-pernyataan-presiden-perancis-yang-dinilai-hina-islam?page=all#page2.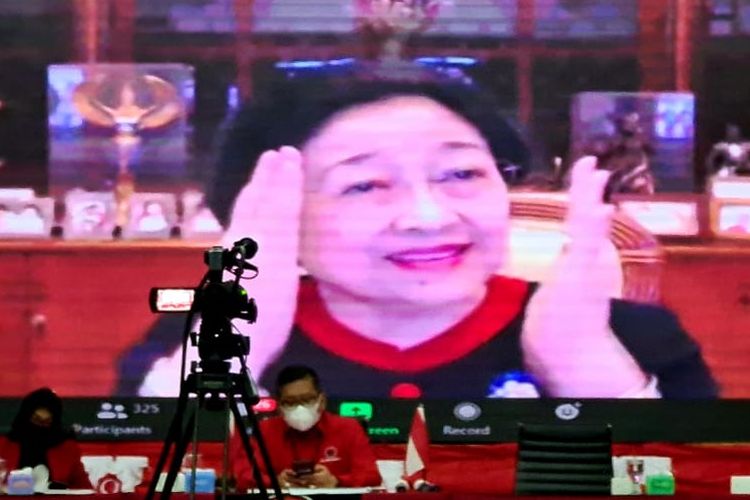 PDI-P Chairperson and former Indonesian President Megawati Soekarnoputri maintains her criticism of millennials over their exaggerated role in violent recent protests against the governments controversial Jobs Omnibus Creation Law
2. PDI-P Party Chairperson Megawati Stands by Criticism of Millennials
Megawati Soekarnoputri, the chairperson of Indonesia's ruling party, the Indonesian Democratic Party of Struggle or PDI-P, has redoubled her criticism of millennials earlier this week over their role in protests against the government's controversial Jobs Creation Omnibus Law.
"What is the point of [demonstrating] when the real intent is to destroy [public facilities]? It is not like [the protesters] can pay for the damages they inflicted," said the former president, who is also the daughter of Indonesia's first president and founding father Soekarno.
"There is nothing illegal about protests, as long as they are done legally. So if they are accompanied by destructive acts, it is unlawful."
Millennial figures like National Democrat Party [Nasdem] legislator Hillary Lasut and the Students Executive Body [BEM] rejected Megawati's premise as patronizing and belittling of their actions and contributions to the country.
Source:
https://nasional.kompas.com/read/2020/10/31/18344571/megawati-ngapain-demo-kalau-merusak-mending-bisa-kalau-disuruh-ganti.
Example of an arrest
3. Police Nab Man in West Nusa Tenggara for Insulting the National Police and Parliament
Individuals throughout Indonesia continued to run afoul of the country's Electronic Transaction and Information Law, as police in West Nusa Tenggara sought out a 23-year old man for insulting Indonesian institutions on Facebook.
Police spokesman Inspector First Class Adhar confirmed that the individual, who is identified as SN, is in police custody after he turned himself in after he briefly went on the run.
"SN admitted that his Facebook posting insulted and incited hatred against the Indonesian National Police and Parliament," Adhar said of the Bima regency resident on 31 October.
"Investigators focused on SN after the posting, which was uploaded to a Facebook account under the name of Syarif Mathelle. The post included insults towards Parliament for its handling of the Covid-19 pandemic and ratification of the Jobs Creation Omnibus Law."
Adhar added that the police are currently questioning SN to determine his motives. If found guilty he faces 6 years in jail. The Electronic Transaction Law is frequently used by powerful individuals or groups to muzzle dissent.
Source:
https://regional.kompas.com/read/2020/10/31/12511661/hina-polisi-dan-dpr-di-facebook-seorang-pria-ditangkap?page=all#page2.
Dapatkan update berita pilihan dan breaking news setiap hari dari Kompas.com. Mari bergabung di Grup Telegram "Kompas.com News Update", caranya klik link https://t.me/kompascomupdate, kemudian join. Anda harus install aplikasi Telegram terlebih dulu di ponsel.