Jakarta, KOMPAS.com - Indonesian President Joko 'Jokowi' Widodo's first dealings with new Japanese Prime Minister Yoshihide Suga has gotten off to a promising start during the latter's first ever state visit to Indonesia.
Suga pledged to give Indonesia a Rp. 6.95 trillion [$473,885,055] fiscal loan to help the country deal with Covid-19's effects on the economy. Jokowi and Suga also agreed to open a travel corridor for business travelers between both countries.
"I encouraged Japan to participate in the Sovereign Wealth Fund for its investment in Indonesia," Jokowi said. "I am glad to note increased investment by Japanese investors like Denso, Sagami, Panasonic, Mitsubishi Chemicals and Toyota."
Suga maintained that Japan will work closely with Indonesia on infrastructure. "The infrastructural projects included the next stage of the MRT's development, the semi-fast train route between Jakarta to Surabaya, East Java, and the development of ports and [Indonesia's] outer islands."
Source:
https://go.kompas.com/read/2020/10/21/012404674/president-joko-widodo-welcomes-japanese-pm-suga-to-indonesia?page=all#page2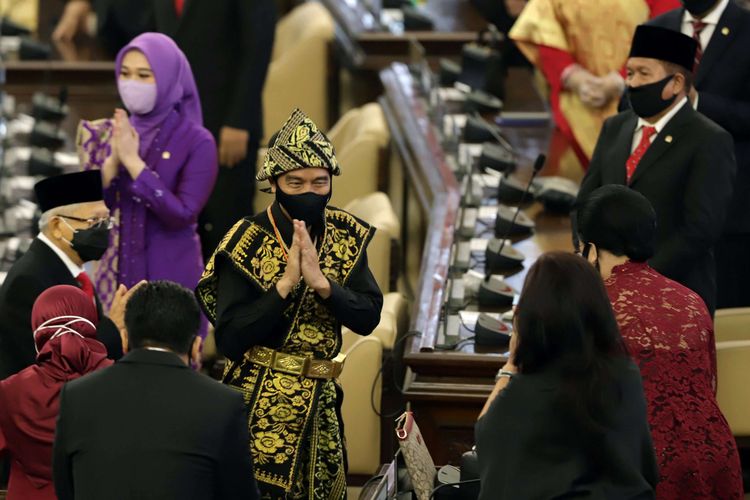 Indonesian President Joko Widodo ahead of his annual 17 August speech before Parliament (14/8/2020)
The Indonesian public's confidence in President Joko Widodo and Vice President Ma'aruf Amin has dropped significantly a year into his second term. A recent poll by Kompas showed 39.7 percent of respondents remain confident in the president's track record, in contrast to 46.3 percent of dissatisfied participants.
The unfavorable results were reflected by the respondents' bleak outlook of the economy. "40.3 percent of participants said they are satisfied with the state of the economy...while the 49.7 percent of respondents said they are dissatisfied," Kompas noted.
The respondents reserved their most scathing verdict for law enforcement. "54.4 percent of respondents said they are dissatisfied with the Jokowi administration's track record on law enforcement." In contrast, 30.2 percent of respondents said they are satisfied with the government's handling of law enforcement.
Source