JAKARTA, KOMPAS.com – Public confidence in Indonesian President Joko 'Jokowi' Widodo and his running mate Ma'aruf Amin has taken a major hit a year after the head of state was re-elected to a second term in October 2019.
A survey carried out by Kompas showed that the number of his critics among the public has substantially grown.
"46.3 percent of respondents are dissatisfied with Jokowi and Ma'ruf's track record over the past year. Of this number, 6.2 percent said they are extremely dissatisfied," noted the survey.
Also read: Public Confidence in Democracy Takes A Hit from Covid-19 in Indonesia
"On the other hand, 39.7 percent of the respondents said they are satisfied with the President's work. 5.5 percent of them said they are very satisfied with his track record."
Jokowi's track record in the economy, politics and national security, law enforcement as well as public wellbeing was scrutinized as well.
"48.8 percent of the respondents said they are satisfied with [Jokowi's] record on public wellbeing, while 3.4 percent of them noted that they are 'very satisfied'," said the survey.
"On the other hand, 41 percent of respondents said they are dissatisfied with the government's record on the field, while 5.5 percent said they are extremely dissatisfied."
As for politics and national security, "2.1 percent of respondents said they are extremely satisfied, while 42 percent said they are satisfied."
"46.7 percent said they are not satisfied with the government's handling of the field, while 6 percent said they were extremely dissatisfied."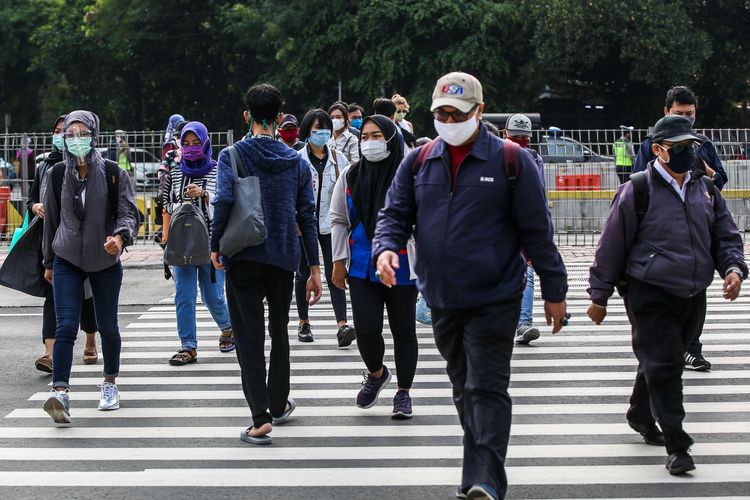 Commuters returning home from work cross the road in Jalan Thamrin, Jakarta