JAKARTA, KOMPAS.com – Indonesian President Joko 'Jokowi' Widodo has urged his cabinet to warn the public about potential new Covid-19 clusters in the wake of protests against the government's Omnibus Jobs Creation Law last week.
The warning comes as trade unions and university students continue to hit the streets to oppose the legislation.
"President Jokowi instructed us to remind the public that the Covid-19 pandemic is not over. He hoped that the protests will not bring about new Covid-19 clusters," Coordinating Minister for Economic Affairs Airlangga Hartarto said on October 12.
Also read: Indonesian University Students Urged to Refrain from Joining Protest Ranks
He reminded the demonstrators and the general public to abide by health protocols like wearing masks, routine washing of hands, and practicing social distancing.
Indonesian Covid-19 Task Force head Doni Monardo agreed with Airlangga as he warned about the high possibility of transmission among protesters who ignore health protocols.
"Covid-19 is transmitted [person to person], unlike swine flu or bird flu, which was passed from animals to humans," he said. "The [pandemic] will affect not just anyone, but our families, colleagues and others who are nearest to us."
Meanwhile, the Indonesian National Police has arrested 5,918 people nationwide in connection with the unrest opposing the jobs law.
"The number of detainees included 1,548 high school students, 796 anarchist members of Anarko, 601 members of the public, 484 laborers, and 443 university students, and others.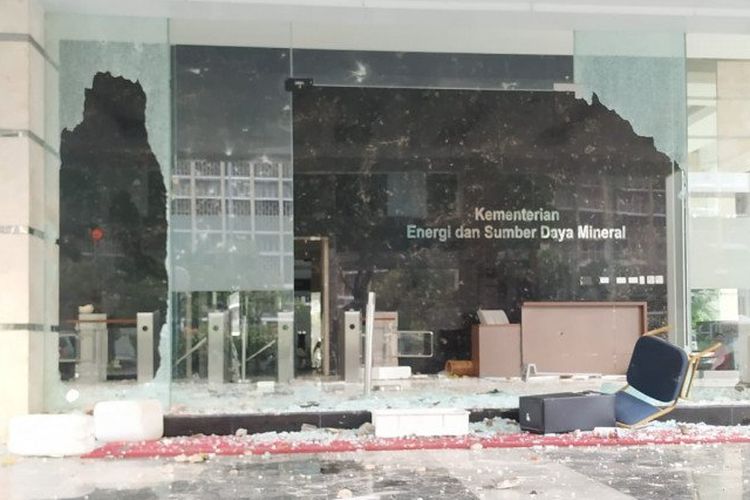 The devastation at the Ministry of Energy and Natural Resources after protesters attacked the building (8/10/2020)
Also read: Indonesian Government to Take Firm Steps Against Violence Protest on Jobs Law
"The last included housewives in North Sumatra," said Police spokesman Inspector General Argo Yuwono.
"Most of the unrest occurred from the first protests on October 5 to their peak on October 8. We estimated that there are 95 protests throughout all of Indonesia's 34 provinces."
He added that the police incurred casualties, mostly from rocks thrown by the protesters. "[Rocks thrown by protesters] caused most of the casualties in cities like Surabaya and Semarang," Argo said. "This is flat out anarchy, as protests do not involve thrown rocks."
"Of this number, they have decided to try 167 detainees for committing serious crimes, as per instructions from National Police Chief General Idham Azis."
Argo said these included 10 rioters, eight of whom are underage, suspected of damaging the Ministry of Energy and Natural Resources building. The government hastily passed the Omnibus Jobs Creation on October 5 before parliament went into recess.
(Writers: Ihsanuddin, Muhammad Isa Bustomi | Editors: Diamanty Meiliana, Jessi Carina, Egidius Patnistik)
Sources:
https://nasional.kompas.com/read/2020/10/12/14111831/masih-ada-demo-tolak-uu-cipta-kerja-ini-arahan-jokowi-ke-menteri.
https://megapolitan.kompas.com/read/2020/10/12/18553771/totalnya-polisi-tangkap-5918-orang-dalam-demo-tolak-omnibus-law-di.
https://megapolitan.kompas.com/read/2020/10/12/17250771/walau-di-bawah-umur-8-tersangka-perusak-kantor-kementerian-esdm-tetap.
Dapatkan update berita pilihan dan breaking news setiap hari dari Kompas.com. Mari bergabung di Grup Telegram "Kompas.com News Update", caranya klik link https://t.me/kompascomupdate, kemudian join. Anda harus install aplikasi Telegram terlebih dulu di ponsel.