JAKARTA, KOMPAS.com – The Indonesian National Police's Criminal Investigations Agency or Bareskrim has arrested a man who uploaded an animated video insulting Vice President Ma'ruf Amin.
"Investigators arrested the suspect, who is identified as Sulaiman Marpaung, in North Sumara's Tanjung Balai Asahan district on October 2. They then brought him to Jakarta," Police spokesman Inspector General Argo Yuwono told Kompas.com on the same day.
"We traced Sulaiman through a Facebook account under the name of Oliver Leaman S. We have confiscated the account as evidence, along with a cell phone and a SIM card."
Also read: Indonesian Police Question 4 Women over TikTok Video Showing Them Defacing National Flag
Argo added that Sulaiman created a photo collage of the Vice President and juxtaposed it with an animation of adult film star Kakek (Grandpa) Sugiono. "[Sulaiman] then uploaded the work on his Facebook and Whatsapp accounts on 25 September."
Argo said Kakek Sugiono, the popular name of 84-year-old Japanese porn actor Shigeo Tokuda, has been used by politicians as a figure to discredit or smear opponents, especially during the 2019 elections.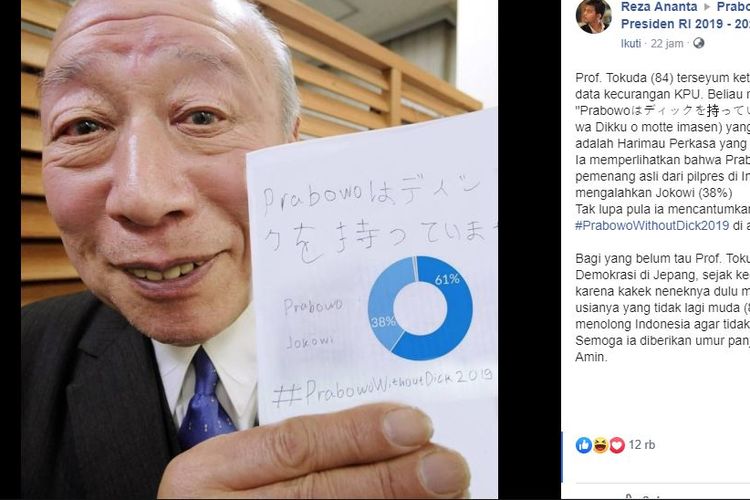 Japanese adult film star Kakek Sugiono in a hoax photo from the 2019 election
He added that Sulaiman, a former member of the Majelis Ulama Indonesia (MUI) Islamic organization of which Ma'ruf was a longtime member, was enraged by a YouTube video of the Vice President that praised K-Pop for inspiring Indonesian youth.
Also read: Indonesian Journalist in South Kalimantan Gets Jail Time for Divisive Article
His anger at Ma'ruf's for his perceived selling out of Islam was reflected by the following narration that he made with his animation:
"Do not pretend to be an Ulama [Islamic cleric] when you are really a criminal to your own religion. Please repent in your old age before you enter the afterlife. Happy Friday prayers."
Argo noted that Sulaiman deleted his post and apologized. But he added that the post went viral long enough to be seen by the Tanjung Balai Asahan chapter of the Ansor Islamic youth group and its head Salman al Hariz. He added that Salman reported the stunt to the police.
Police charged Sulaiman with violating Indonesia's Electronic Information and Transaction Laws. If found guilty, he faces four to six years behind bars and a fine ranging from Rp. 750 million to Rp. 1 billion ($50,498.83 - $67,331.77).
(Writers: Devina Halim, Dani Prabowo | Editors: Kristian Erdianto, Diamanty Meiliana, Dani Prabowo)
Sources:
https://nasional.kompas.com/read/2020/10/02/11413051/bareskrim-tangkap-pengunggah-kolase-foto-wapres-maruf-dan-kakek-sugiono.
https://nasional.kompas.com/read/2020/10/02/17554011/ini-ancaman-pidana-bagi-pengunggah-kolase-foto-wapres-maruf-amin-dan-kakek.
https://nasional.kompas.com/read/2020/10/02/05573801/fenomena-kakek-sugiono-di-pusaran-hoaks-politik-tanah-air?page=all#page2.
Dapatkan update berita pilihan dan breaking news setiap hari dari Kompas.com. Mari bergabung di Grup Telegram "Kompas.com News Update", caranya klik link https://t.me/kompascomupdate, kemudian join. Anda harus install aplikasi Telegram terlebih dulu di ponsel.