JAKARTA, KOMPAS.com – Anti-narcotics police in Jakarta have made their biggest break yet in their war on drugs after they seized 131 kilograms of crystal meth recently.
"We seized the drugs during a sting operation last week in Kebayoran Lama, South Jakarta, on July 30," said Police Deputy Commissioner Vivick Tanjung, the head of the South Jakarta Police Department's anti-narcotics unit.
"The drug haul is arguably the biggest ever made by the department in its history."
Also read: Indonesian Anti-Narcotics Police Arrest Marijuana Brownies Maker
Vivick added that the police arrested two suspects, whom they identified as AP and HG, during the bust. She pointed out that the South Jakarta Police Department also confiscated hundreds of ecstasy pills and up to 160 kilograms of marijuana in separate raids.
Jakarta Metropolitan Police chief Inspector General Nana Sudjana said investigators are searching for Santi alias Selvi, the prime suspect, who is still at large.
"The perpetrators were working the Sumatra-Java drug route," Antara state news agency quoted Nana as saying. "They also stepped up their efforts, as they are now smuggling kilograms [of drugs] instead of grams."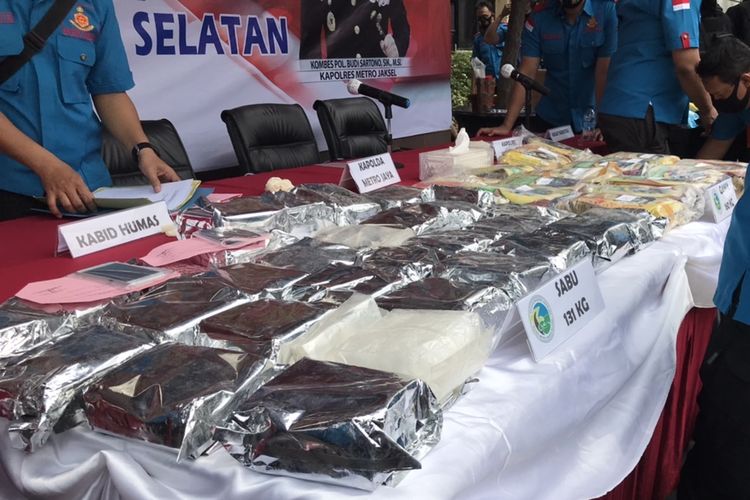 The 131 kilograms of crystal meth confiscated by police in Kebayoran Lama, South Jakarta
Also read: Indonesian Court Metes Out Prison Sentence to Medical Marijuana User
He also warned that the operation reflected the increasingly ingenious methods adopted by drug smugglers.
"The smugglers hid the crystal meth among a pile of bricks. They packed the drugs in six plastic and aluminium bags shaped to look like bricks," he said.
"The operation is based on a tip from a married couple we arrested in South Jakarta's Cipete area last June for selling 70 grams of red or Colombian amphetamines. The substance is the newest yet to be smuggled and illicitly sold in Indonesia."
Nana said that drug smuggling continued briskly as Jakarta and the rest of Indonesia struggles against the Covid-19 pandemic. He pointed out that the police carried out 12 to 20 drug-related arrests on a daily basis over the past few months.
If found guilty, the drug smugglers face between 10 and 20 years behind bars or the maximum sentence of the death penalty.
(Writer: Wahyu Adityo Prodjo | Editor: Sabrina Asril)
Sources:
https://megapolitan.kompas.com/read/2020/08/03/20035601/sita-131-kg-sabu-terbesar-sepanjang-sejarah-di-jakarta-selatan.
https://www.antaranews.com/berita/1647598/delapan-bulan-polda-metro-jaya-ungkap-2894-kasus-narkoba
https://www.antaranews.com/berita/1647474/polisi-gagalkan-pengiriman-131-kg-sabu-dalam-truk-pengangkut-batu-bata
Dapatkan update berita pilihan dan breaking news setiap hari dari Kompas.com. Mari bergabung di Grup Telegram "Kompas.com News Update", caranya klik link https://t.me/kompascomupdate, kemudian join. Anda harus install aplikasi Telegram terlebih dulu di ponsel.