KUPANG, KOMPAS.com – A dozen whales beached themselves in Indonesia's East Nusa Tenggara last July. They all died, according to the Kupang Water Area Conservation Agency (BKKPN).
A 29-meter, 100-ton blue whale died after it beached itself on Nunhela Beach on July 21, BKKPN head Ikram Sangadji told Kompas.com August 2.
"The majority of the beaching incidents happened on July 30, when 11 pilot whales hit the shores of the Sabu Raijua regency."
Also read: Two Endangered Javanese Silver Gibbons Take First Steps into the Wild
Ikram added that 10 of the cetaceans that beached on July 30 died instantly.
"The local people attempted to help the 11th [pilot whale] and actually managed to bring it to the open seas. But the marine mammal was found dead the next day after it beached again," he recalled.
Ikram noted that beaching is a natural phenomenon, not a byproduct of poaching or other manmade causes.
"Various species of whales and other marine mammals often converge onEast Nusa Tenggara's waters, particularly the Sawu Sea, as it is rich in plankton and other marine life that make up a large part of their diet," he said.
"The whales followed the currents from deepwater to shallower waters near the beach, as the ocean currents brought plankton and other food sources there."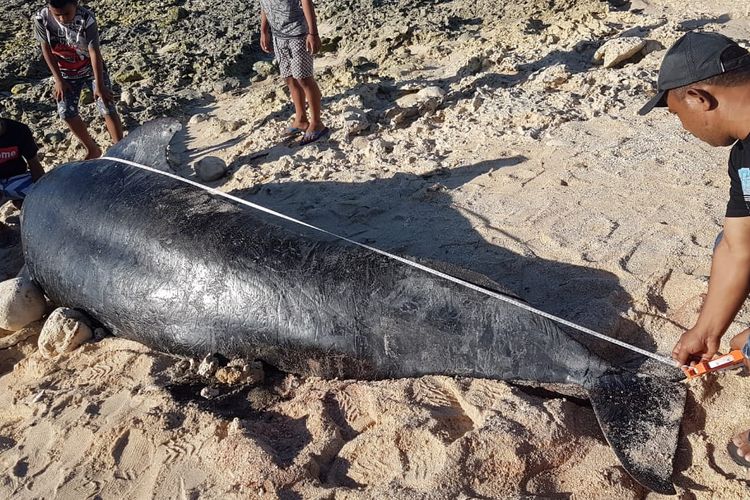 A dead pilot whale gets measured after it is beached in East Nusa Tenggara [NTT] province
Also read: Rare Sighting of Irrawaddy Dolphins in Indonesia's East Kalimantan Caught on Video