BOGOR, KOMPAS.com – Javanese silver gibbons Ukong and Gomeh's final reintroduction to their natural habitat is just around the corner as Indonesian conservationists prepare to move them to a national park in West Java province for another round of testing their readiness to survive on their own in the wild.
"Ukong and Gomeh will be moved from Gede Pangrango National Park, where they were rehabilitated or reintroduced [to the wild], to Mount Puntang National Park," said veterinarian Pristiani Nurantika of the Javan Gibbon Centre in a press release on August 1.
"Mount Puntang's environs can help Ukong and Gomeh habituate or adapt to their natural habitat. These include vegetation that grew on the slopes of the mountain, as well as the altitude and temperatures of their habitat."
Pristiani added that the habituation period of the two gibbons (Hylobates moloch) at Mount Puntang will last for four months.
Also read: Rare Sighting of Irrawaddy Dolphins in Indonesia's East Kalimantan Caught on Video
Wildlife official Dadang Suryana agreed. "[Ukong and Gomeh] will be monitored during the habituation period to see if their behavior will be similar to their wild counterparts. If they pass this stage, they will be reintroduced in the wild. Even then, we will monitor them for at least a year to see if they can survive in the wild."
Dadang said the process does not end there. "After they are reintroduced in the wild, we also have to make sure they can breed and that they are safe from hunting [by humans]."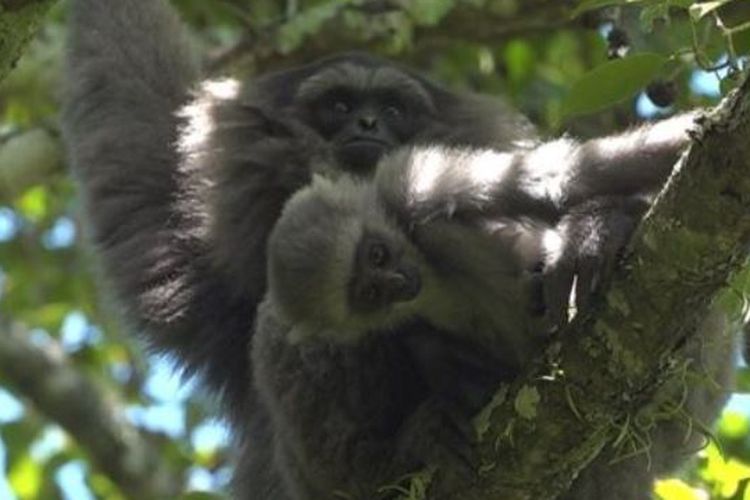 A female Javanese silver gibbon with their young
"We also have to ensure that humans will not turn their habitat into plantations or housing."
Dadang added that Javanese silver gibbons play an important role in nature conservation. "[Javanese silver gibbons] do this by spreading the seeds of the fruits they eat. Their presence in a forest is a good indication of its ability to sustain life for other animals."
Also read: Indonesian Villagers Snare Javanese Leopard
Ukong and Gomeh are among the six Javanese silver gibbons that are reintroduced in the wild this year under a conservation program sponsored by the state oil company Pertamina, the Yayasan Owa Jawa (Javanese Silver Gibbon Foundation), and the Javan Gibbon Centre.
The reintroduction and monitoring initiative, which also set out to raise public awareness of the primates, have reintroduced 24 Javanese silver gibbons to the wild since 2013.
The IUCN classified the Javanese silver gibbon as a vulnerable species. With a remaining population of between 2,000-4,000, the primate is one of the rarest of its kind in the world.
Aside from being hunted and sold as illegal pets, efforts to conserve the Javanese silver gibbons are undermined by their territoriality and low birthrates due to their monogamous nature.
(Writer: Bogor Regency Contributor Afdhalul Ikhsan | Editor: Aprillia Ika)
Sources:
https://regional.kompas.com/read/2020/08/01/19415471/menuju-kepunahan-sepasang-owa-jawa-masuk-habituasi-di-lereng-gunung-puntang?page=all#page2.
Dapatkan update berita pilihan dan breaking news setiap hari dari Kompas.com. Mari bergabung di Grup Telegram "Kompas.com News Update", caranya klik link https://t.me/kompascomupdate, kemudian join. Anda harus install aplikasi Telegram terlebih dulu di ponsel.