The drive to use CLM comes after reports that Jakarta's Covid-19 positivity rate exceeded the safe limits set by the World Health Organization (WHO).
"Covid-19 positivity rates in Jakarta has stood at 5.5 percent over the past week from July 13-19," said Jakarta health official Fify Mulyani. Positivity rate refers to the number of people who test positive in relation to the total number of people tested.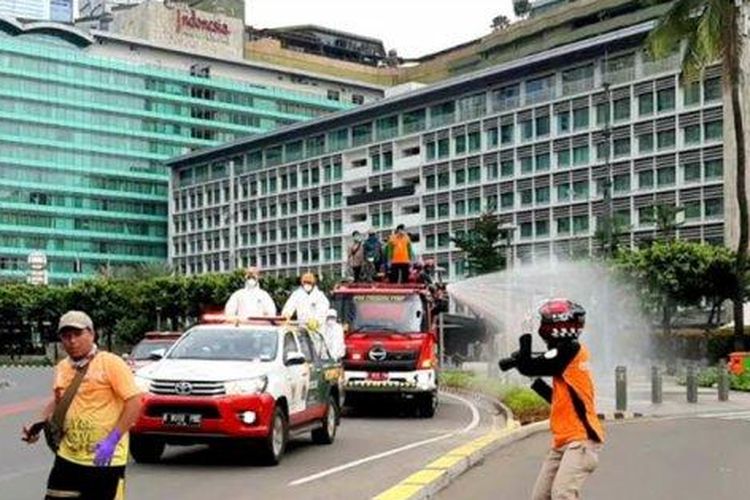 Authorities disinfect Jakartas Hotel Indonesia roundabout on Sunday, 22 March 2020
"This [rate] exceeded the WHO's acceptable Covid-19 positivity rates of 5 percent or less. But we carried out 3,554 PCR tests for every 1 million inhabitants, more than the WHO's recommended rate of 1,000 for every 1 million people."
Also read: Jakarta Issued $92,000 of Fines in a Week During Covid-19 Outbreak
Fify called on the public to comply with current health protocols such as wearing masks, washing hands with soap and hand sanitizers, and keeping social distances.
"This is imperative as 55 percent of all Covid-19 cases [nationwide] are asymptomatic," she said. "But If the public can do this as well as cooperate with the authorities, we can break the chain of Covid-19 infection."
Jakarta currently has the second highest number of Covid-19 cases in Indonesia with 17,279, following the addition of another 433 cases in the capital.
(Writers: Nursita Sari, Rindi Nuris Velarosdela | Editors: Nursita Sari, Sandro Gatra)
Sources:
https://megapolitan.kompas.com/read/2020/07/20/15512311/kendalikan-covid-19-anies-ingin-80-persen-warga-jakarta-isi-clm?page=all#page2.
https://megapolitan.kompas.com/read/2020/07/15/15375961/warga-luar-dki-diimbau-isi-formulir-clm-sebelum-masuk-jakarta?page=all#page2.
https://megapolitan.kompas.com/read/2020/07/20/19015971/positivity-rate-covid-19-di-jakarta-sepekan-terakhir-melebihi-batas-ideal.
Dapatkan update berita pilihan dan breaking news setiap hari dari Kompas.com. Mari bergabung di Grup Telegram "Kompas.com News Update", caranya klik link https://t.me/kompascomupdate, kemudian join. Anda harus install aplikasi Telegram terlebih dulu di ponsel.