JAKARTA, KOMPAS.com – Indonesia has decided to temporarily shelter 99 Rohingya refugees stranded in Aceh on humanitarian grounds a week after they ended up on the shores of the Indonesian province.
"Indonesia will provide sanctuary to the Rohingya refugees on humanitarian grounds," said Indonesian Foreign Minister Retno Marsudi in a virtual Special ASEAN-Australia Foreign Ministers Meeting on Covid-19 on Tuesday, June 30.
Retno added that the refugees are currently housed in makeshift accommodations.
"[The Rohingya] are currently housed in an old immigration office in Lhokseumawe, pending a move to more suitable accommodations at a work training center on July 1," she said.
Retno noted that the Indonesian foreign ministry is coordinating with security forces, the Aceh provincial administration, as well as the International Office of Migration (IOM) and the United Nations High Commission for Refugees on accommodating and feeding the Rohingya.
Also read: Amnesty International Indonesia Urges Protection of Rohingya Refugees
Aside from their accomodations, Retno added that the refugees's health has also been put under consideration.
"We have run Covid-19 tests on the Rohingya. And I am glad to report that they tested negative and are in good health."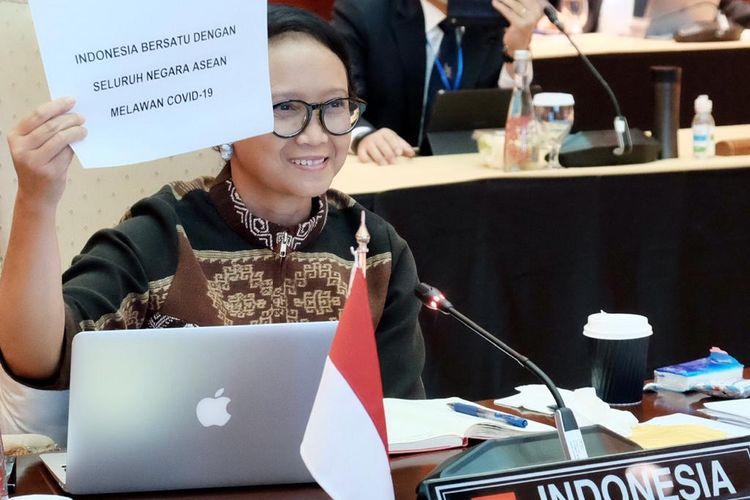 Indonesian Foreign Minister Retno Marsudi at a multilateral ASEAN meeting on 9/4/2020
Prioritizing the Rohingya's repatriation
Retno added that most of the Rohingya are set to be repatriated to Rakhine state in Myanmar, pending more ideal conditions for their return.
"The majority of the refugees already have a card from the United Nations High Commissioner for Refugees [UNHCR] ] officially proving their refugee status. This gives them protection around the world under UNHCR," she said.
Also read: Indonesia's Retno Marsudi Calls for Cooperation in Covid-19 Response during ASEAN- Australia Meeting
"However, our main priority is the repatriation of the Rohingya refugees to their place of origin in Rakhine state, Myanmar in a voluntary, safe, and honorable manner. We hope that the situation [in Rakhine state] will be conducive to their repatriation."
The 99 Rohingya refugees consisted of 13 men, 30 women, and 56 children under the age of 18. Acehnese fishermen picked up the refugees on Thursday, June 25 and dropped them off in Lhokseumawe. They had been adrift at sea since Monday, June 22.
The Muslim Rohingya have been fleeing persecution by Myanmar's Buddhist majority in their home state of Rakhine in recent years.