SAMARINDA, KOMPAS.com – Fifty-six-year-old Ambo, resident of Guntung River Estuary, East Kalimantan, feeds Rizka with the same affection you'd see from someone doting on a fish, turtle or some other aquatic life kept as pets.
But a closer look shows that he is walking on the wild side; Rizka is a four-meter saltwater crocodile.
Long thought as the embodiment of nightmares in films like the "Crocodile Dundee" franchise and documentaries on Animal Planet or National Geographic, the reptile seemed more like Flipper the dolphin than a terrifying predator.
Rizka has been a fixture in Ambo's life for over two decades. "If I don't see her for two or three days, I would go looking for her," he says at his home on Sunday. "I treat her as my own child."
Also read: Rising Waters On Ijen Crater Kills Sulphur Miner
Beginnings of a beautiful friendship
"I first ran into Rizka when I was on a boat passing through the waters of the Pupuk Kaltim area 23 years ago," Ambo remembers. "She was then only about a meter long, so I ignored her as I made my way home."
"[But] I noticed that [Rizka] followed the vessel home. I even saw her next to the boat, which I also named Rizka," he says. "I called her over to give something to eat, and she came around. She has since been doing that."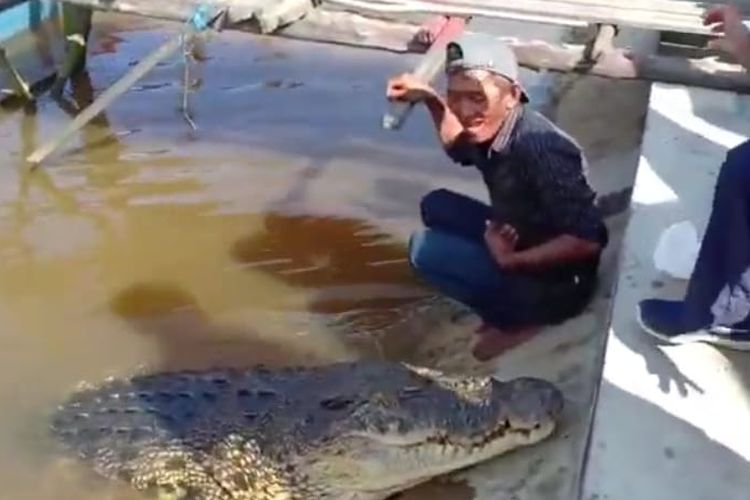 A fixture in the neighborhood
Rizka often comes around to Ambo's house when she's hungry. "I habitually give Rizka three chickens. Once she has been fed, she swims away," he says.