BOGOR, KOMPAS.com - Malaysia's new prime minister met with Indonesia's president Monday, Jan. 9, on his first foreign trip after winning a confidence vote and cementing his mandate last month following an inconclusive election.
Anwar Ibrahim, a long-time opposition leader, was sworn in as the country's 10th prime minister on Nov. 24, 2022, to head a unity government in a shaky alliance with the graft-tainted party of his former political rivals.
He met Indonesian President Joko Widodo for talks at a presidential palace in Bogor, south of the capital Jakarta where he thanked his counterpart for his support after the election.
"This is a bit personal, Mr. President. When I was in a difficult situation, living in uncertainty and suffering, Indonesia welcomed me as a true friend," he said after the meeting.
Also read: Malaysia: Opposition Leader Anwar Ibrahim Named PM
Widodo said the world's two biggest exporters of palm oil would boost cooperation on the commodity and work together to battle "discrimination" against the sector, which environmentalists say is stoking deforestation in both countries.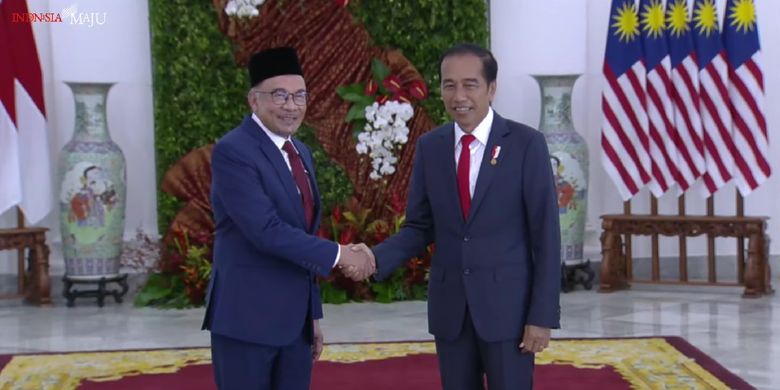 Indonesia's President Joko Widodo (right) and Malaysia's Prime Minister Anwar Ibrahim (left) shake hand before the pair held a meeting at the Bogor Presidential Palace near Jakarta on Monday, January 9, 2023. Anwar is on his two-day state visit to Indonesia, the first foreign trip after he was sworn in as the country's 10th prime minister on November 24, 2022.
The European Union last month agreed on a new law preventing companies from selling products linked to deforestation.
"We have agreed to strengthen the cooperation through the Council of Palm Oil Producing Countries (CPOPC) to increase the palm oil market," he said.
The Indonesian leader also lauded the interest of Malaysian companies in investing in the country's new capital Nusantara, which is scheduled to open on the island of Borneo next year.
Also read: Indonesia, Malaysia Agree to Reopen Migrant Worker Placement in August
Ahead of the talks, the Indonesian leader greeted Anwar before driving him around the palace's gardens in an electric buggy.
The pair then discussed issues including trade, border disputes, and the situation in coup-hit Myanmar.
It is customary that the first foreign visit of a new Malaysian premier takes place in neighboring Indonesia, which counts Kuala Lumpur as its fifth biggest export market.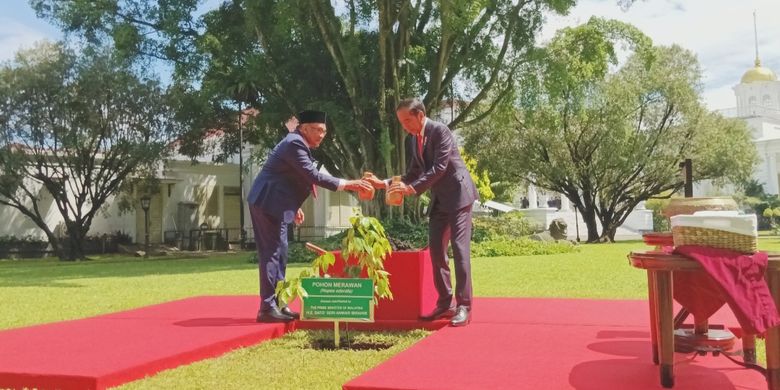 Indonesia's President Joko Widodo (right) and Malaysia's Prime Minister Anwar Ibrahim (left) plant Merawan Tree or Hopea odorata at the Bogor Presidential Palace near Jakarta during the latter's state visit to Indonesia on January 9, 2023.
Indonesia, the world's third-largest democracy, this year takes the chairmanship of the ASEAN group of Southeast Asian nations – in which junta-led Myanmar remains a member – and will host a leaders' summit in November.
They also spoke about migrant worker rights after Indonesia last year imposed a temporary ban on recruitment to Malaysia where the majority of Indonesian migrant workers reside.
Eight Malaysian companies had also signed memorandums of understanding with Indonesian firms worth up to 1.66 billion Malaysian ringgit ($379 million), the Malaysian foreign ministry said in a statement.
Dapatkan update berita pilihan dan breaking news setiap hari dari Kompas.com. Mari bergabung di Grup Telegram "Kompas.com News Update", caranya klik link https://t.me/kompascomupdate, kemudian join. Anda harus install aplikasi Telegram terlebih dulu di ponsel.