JAKARTA, KOMPAS.com - Rescuers searched for survivors buried under rubble on Tuesday, Nov. 22, after an earthquake in Indonesia's West Java killed 162 people, injured hundreds, and left more feared trapped in collapsed buildings.
As bodybags emerged from crumpled buildings in Indonesia's most populous province, rescue efforts turned to any survivors still under debris in areas made hard to reach by the mass of obstacles thrown onto the roads by the quake.
The epicenter of the shallow 5.6-magnitude quake on Monday, Nov. 21, was near the town of Cianjur where most of the victims were killed as buildings collapsed and landslides were triggered.
One of the dozens of rescuers, 34-year-old Dimas Reviansyah, said teams were using chainsaws and excavators to break through piles of felled trees and debris to reach areas where civilians were believed trapped.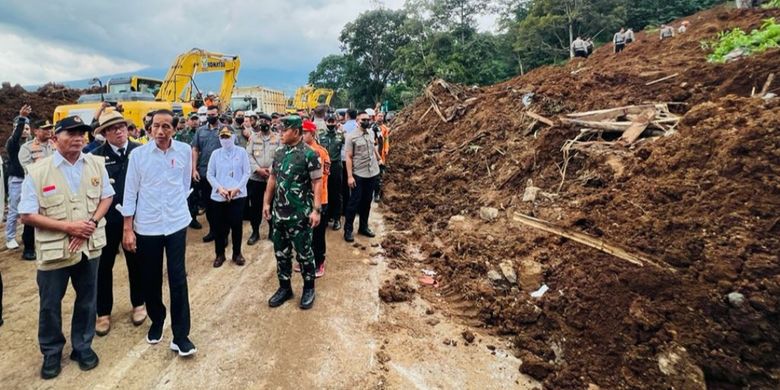 Indonesia's President Joko Widodo (right, front), who is accompanied by local authorities visit the affected areas in Cugenang sub-district in Cianjur regency on Tuesday, November 22, 2022, a day after the 5.6-magnitude quake struck Indonesia's West Java.
Also read: 5.6-Magnitude Earthquake Shakes Indonesia's West Java
"I haven't slept at all since yesterday, but I must keep going because there are victims who have not been found," he said.
Drone footage taken by AFP showed the extent of a quake-triggered landslide where a wall of brown earth is only punctuated by workers using heavy machinery to clear a road.
President Joko Widodo visited the area on Tuesday, offering compensation for victims and ordering disaster and rescue agencies to "mobilize their personnel" to prioritize the evacuation of victims.
"On behalf of myself, on behalf of the government, I would like to express my deepest condolences," he said.
Indonesia's national disaster mitigation agency, or BNPB, said at least 25 people were still buried under the rubble in Cianjur as darkness fell Monday.