TANGERANG, KOMPAS.com – Forty-one inmates, including two foreigners, were killed and dozens of others were injured when a fire engulfed an overcrowded prison in Indonesia's Banten province near Jakarta early Wednesday morning, September 8.
Law and Human Rights Minister Yasonna Laoly said that the two foreign nationals were from South Africa and Portugal.
"The two foreign nationals were from South Africa and Portugal. We have worked closely with the Ministry of Foreign Affairs and the related embassies," Yasonna told a press conference at Tangerang Penitentiary on Wednesday.
"Eighty-one people survived [the prison fire], 40 died at the prison block, and one person [died] on the way to the hospital," the minister said, adding that deepest condolences to all the family.
He said that the injured inmates were taken to a Tangerang hospital for further treatment.
"Of the 41 inmates who died, one was convicted terrorist, one was convicted murderer, while others were drug offenders," he added.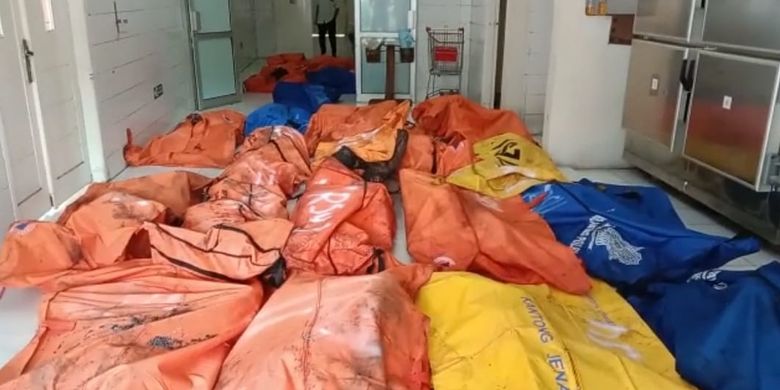 The bodies of inmates who died in Indonesia prison fire in the early hours of Wednesday, September 8, 2021.
When asked why the prison block was locked when the fire broke out, the minister said that it was part of the procedures in the prison. "You asked me why it [the block] was locked. It must be locked according to the procedures and if it was unlocked, it would violate the procedures."
The fire grew quickly and burned several rooms that had not been opened. Yasonna said that the fire broke out at 1:45 am local time. About 13 minutes after a distress call was made, the fire and rescue department deployed 12 truck engines to the scene. The blaze was put out in 1.5 hours. A short circuit was suspected to be the cause of the fire, but no confirmation on the matter as it was still under investigation, he added.
Overcrowded prison
The minister also mentioned that the fire broke out at the C2 Block of the class I Tangerang prison, where it housed 2,072 inmates.
"The Tangerang prison is 400 percent overcapacity," the minister said.
He assured that the ministry and other relevant officials will work closely to further investigate the fire at the prison which was built in 1972.