KOMPAS.com - It's safe to say that palm oil doesn't have a cracking reputation. From the British supermarket ad about an orphaned and homeless orangutan alongside food and cosmetics products loudly labelled with "no palm oil" stickers, it is widely portrayed as the bad boy of the veggie oil industry.
That said, it meets about 40% of the current global annual demand for vegetable oil used in foods, animal feed, and fuel. And because it's so versatile, not to mention lucrative, more and more forested areas have been cleared to make way for places to grow it.
Also read: Indonesia Steps Up Palm Oil Sludge Exports to Malaysia
And that is not exactly good for the environment.
In fact, it's disastrous. More than 90% of palm oil is produced in the regions of Borneo, Sumatra and the Malay Peninsula, where the land being cleared is tropical rainforests.
So what?
So... when tropical rainforests are cleared, it destroys the habitat of many different species. In addition,trees and soil help us store carbon — essentially working as a carbon sink. And we need them to help absorb the abundance of CO2 we're still producing.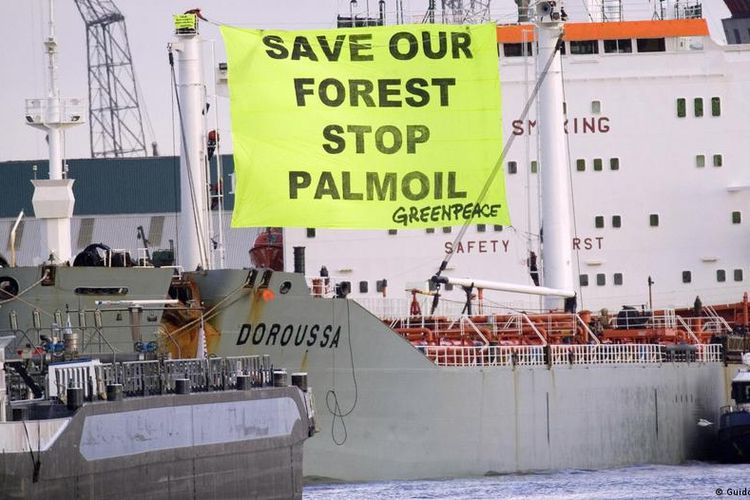 Greenpeace has tried to stop the destruction of forests for years
Why not just stop using palm oil?
Sri Lanka did in fact recently impose a ban on the import of palm oil into the country, while also introducing plans to phase out its own plantations and replace them with rubber or other environmentally friendly crops.
But given the myriad uses of palm oil, getting rid of it altogether might be easier said than done. Far from just being the evil ingredient in our much-maligned chocolate spreads, it also sneaks its way into our cosmetics, pharmaceuticals, our industries, our favorite snacks and our cars.