KOMPAS.com – For Conservation Response Unit elephant handler Rizky in Aceh province's North Aceh Regency, a mundane call to look in on and untie a tame Asian elephant in an enclosure near the village of Cot Girek on Tuesday, June 15 turned out to be more than he bargained for.
An Aceh Nature Conservation Agency or BKSDA Aceh official, Nurdin, recounted that the 21 year-old's troubles occurred that morning as soon as he got to the enclosure.
"Rizki recounted that the area was quiet and there were no signs of wild elephants when he arrived at the enclosure. As soon as he unlocked and opened its gate, a wild male bull elephant showed up and attacked him," Nurdin said.
Also read: Animals Gone Wild: Orangutan Evacuated After Entering Village in East Kalimantan, Indonesia
"The elephant gored his arm with its tusks, while the impact from the attack felled Rizki to the ground. But he managed to scream for help to his colleague, who promptly came to his aid."
Cot Girek Police Department head Police Inspector Second Class Suherman reiterated Nurdin. "Rizky's fellow elephant handler, M. Jamil, yelled to divert the raging bull elephant. His actions caused the bull elephant to flee back to the jungle, and enabled Rizki to escape," Suherman noted.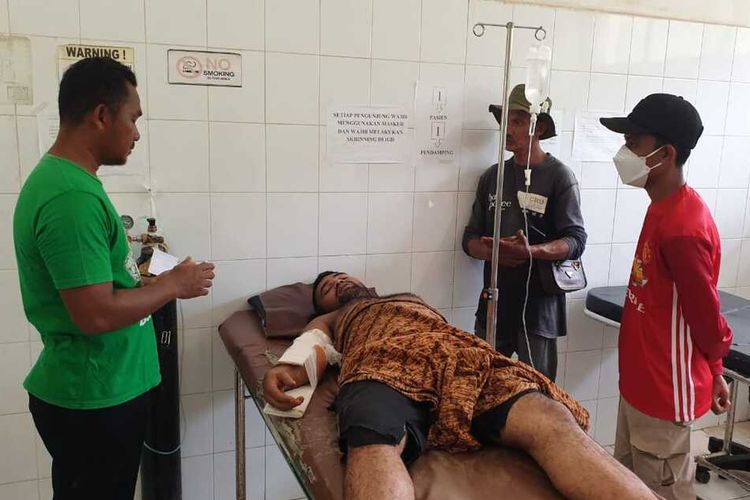 Rizky the elephant handler receiving medical treatment at Cut Meutia Hospital in North Aceh Regency, Aceh (15/6/2021)
Yet Nurdin added that Jamil saved Rizky with a little mind over matter. "When the elephant moved back a few steps to repeat his attack, Jamil repeatedly asked for the animal to leave in the Acehnese language as he got Rizky to shelter behind some big trees," he said.
"His efforts paid off when the wild elephant headed back to the jungle. Jamil then rushed Rizky to the hospital via motorbike, and even tied him to the vehicle to keep from falling over due to his weakened state."
Also read: Animals Gone Wild: Indonesian Man Killed by Crocodile in Sumatra
Suherman added that Rizky was hospitalized at the Cut Meutia Hospital in the town of Lhokseumawe with injuries from his mauling by the elephant, as well as scratches and shortness of breath.