JAKARTA, KOMPAS.com – Jakarta will apply Enforced Micro-Scale Restriction of Community Activities or PPKM, as the capital and other provinces in Indonesia revert to controlling public spaces in their areas instead of on the roads to keep people heading home for Eid al-Fitr or Idul Fitri.
The National Disaster Mitigation Agency or BNPB has warned the country to beware of the fallout from tropical cyclone Choi-Wan over the next two days. The effects included floods, landslides and high winds.
And Indonesia and South Korea inked an agreement to protect Indonesian sailors working in South Korean fishing vessels. This and more on Indonesia Highlights:
Covid-19 illustration.
Jakarta Applies Enforced Micro-Scale Restriction of Community Activities to June 14
The Jakarta Provincial Administration has announced that it will hold Enforced Micro-Scale Restriction of Community Activities [PPKM] to June 14. The capital is taking the policy along with the rest of Indonesia's 34 provinces.
"The Jakarta Provincial Administration will hold PPKM for the next two weeks to June 14, to control the [Covid-19] pandemic and carry on with the [nationwide] vaccination program," said Jakarta Health Services head Widyastuti in a press release Tuesday, June 1.
"The policy is carried out to anticipate the surge in cases, as activities return to normal after the Eid al-Fitr or Idul Fitri holidays. As of May 31, the number of active cases in Jakarta stands at 10,658, up by 3,365 from the last two weeks," she added.
"This number came from medical workers carrying out tracing for early detection cases, particularly among those who traveled during the Idul Fitri holidays."
Widyastuti added that the Jakarta Health Services have prepared 6,621 beds in hospital wards for those people who contracted Covid-19 and wished to self-isolate. "Of this number of beds, 2,176 or 33 percent are already taken. Of 1,014 beds in ICU wards, 362 or 36 are used," she asserted.
"The situation is an improvement over last year. Though case numbers are increasing, the bed occupancy rate is under 50 percent, though we are still anticipating a surge."
Source:
https://go.kompas.com/read/2021/06/02/061748774/jakarta-applies-enforced-micro-scale-restriction-of-community-activities-to-june?page=all#page2.
BNPB has warned Indonesia to brace for floods, landslides, high winds and large waves as tropical cyclone Choi-Wan nears the country
BNPB: Indonesia Should Brace For Extreme Weather
The National Disaster Mitigation Agency or BNPB has warned the Indonesian public to beware of the effects from tropical cyclone Choi-Wan over the next few days.
"The potential disasters are hydrometeorological, such as flash floods, high winds and landslides. The warning is based on our analysis of Choi-Wan," said BNPB Data, Information and Communication head Raditya Jati.
"I urge families and communities to anticipate these dangers and prepare for them. Among the anticipatory steps they can use is the Info BMKG apps from the Meteorological, Climatology and Geophysical Agency to find out about weather patterns," he noted.
"North Kalimantan, East Kalimantan, North Sulawesi, and Maluku are among the provinces that are likely affected by the cyclone. Other effects are offshore, such as waves ranging from 2.5 to 6 meters high."
Raditya asserted that BNPB have coordinated with BMKG to prepare for extreme weather and orient the public of its dangers.
Source:
https://nasional.kompas.com/read/2021/06/01/14242271/bnpb-imbau-masyarakat-waspadai-potensi-bencana-hidrometeorologi-2-hari-ke?page=all#page2.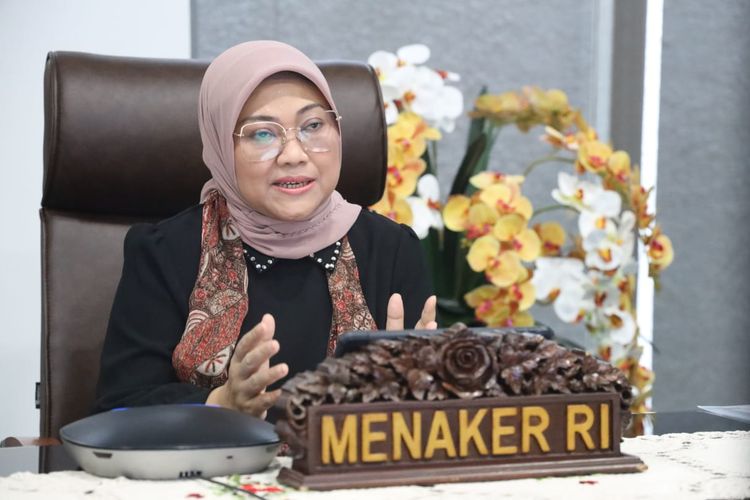 Manpower Minister Ida Fauziyah speaking to journalists in Jakarta.
Indonesia, South Korea Agree to Protect Fishing Vessel Crews
Indonesia and South Korea agreed to enhance the protection of Indonesian fishing ship crews (AKPI) who work on Korean coastal fishing vessels, following the signing of a pact between both officials, Monday, May 31.
Indonesian Minister for Manpower Ida Fauziyah signed for Jakarta, while South Korean Ocean and Fisheries Minister Seong-Hyeok Moon inked the deal on behalf of Seoul.
"On behalf of the Indonesian government, we express our most appreciation to the Korean government for the good bilateral cooperation, particularly in the field of manpower," Ida said.
There is an urgent need for the memorandum of understanding (MoU) given the vulnerability of the Indonesian crew members employed by fishing vessels, she added.
Moreover, the Covid-19 pandemic has caused another issue that added to existing problems faced by Indonesian migrant workers, including the crew members.
Ida went on to explain that bilateral cooperation is necessary to control the mechanism of migrant worker placement and improving the protection of employees' and employers' rights.
"Therefore, intensive and effective coordination and cooperation between the two governments are needed to discuss the issues of manpower and protection of Indonesian crew members and employers in Korea."
South Korea is one of the most attractive countries for Indonesian migrant workers. According to data provided by Korean immigration, 5,343 Indonesian crew members worked for Korean fishing vessels above 20 tons as of April 30, 2020.
Ida hoped that the signing of the MoU could further strengthen the bilateral cooperation between Indonesia and South Korea, starting from a better recruitment and placement process which will be carried out through a government-to-government (G-to-G) scheme.
Source:
https://go.kompas.com/read/2021/06/01/153821074/indonesia-south-korea-agree-to-protect-fishing-vessel-crews.
Dapatkan update berita pilihan dan breaking news setiap hari dari Kompas.com. Mari bergabung di Grup Telegram "Kompas.com News Update", caranya klik link https://t.me/kompascomupdate, kemudian join. Anda harus install aplikasi Telegram terlebih dulu di ponsel.