JAYAPURA, KOMPAS.com – Tensions in the embattled Indonesian province of Papua remain high, after a mob of men beat two Indonesian Army soldiers to death at the Yahukimo Regency on Tuesday, May 18.
Military Area 172 commander Brigadier General Izak Pangemanan, whose command includes Yahukimo, said the crowd assaulted Master Private M. Alif and Private Aryudi as the two men were guarding the Nop Goliat Dekai Airport.
"The mob converged to attack Master Private M. Alif and Private Aryudi. Their cause of death was multiple stab wounds," Izak noted. "Their attackers took away the deceased's SS2 assault rifles."
Also read: Indonesia Intelligence Official Shot Dead in Papua
Yahukimo Regency Police Department chief Grand Police Commissioner Attendant Deni Herdiana reiterated Izak. "The attackers fled into the jungle after they carried out their attack. We are still trying to determine their identities," he said.
While the authorities have yet to identify the perpetrators, Izhak has little doubt about the responsible parties. "We strongly believe that insurgents or Armed Criminal Groups [KKB] are behind this attack, though we are still trying to determine their complicity," Izak asserted.
"Right now the Army's 432 Battalion and the police's Mobile Brigade Corps [Brimob] are pursuing the KKB and trying to determine their location."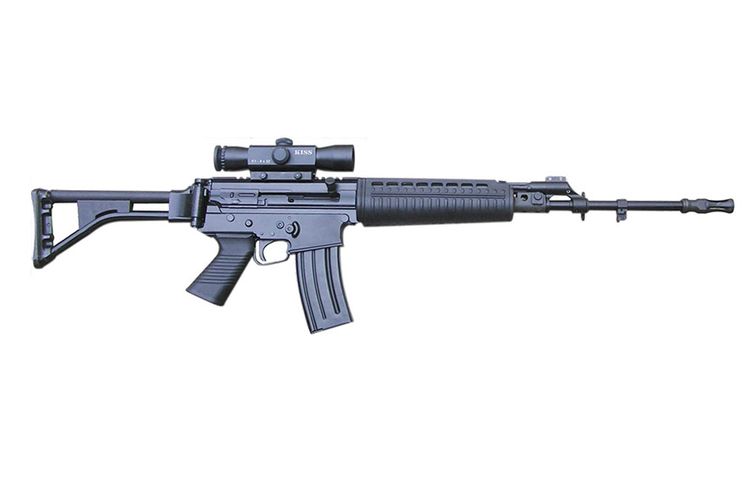 An SS2 assault rifle similar to that used by two Indonesian soldiers killed by a mob of unidentified men in Papua's Yahukimo Regency on Tuesday (18/5/2021)
Papua Regional Police chief Inspector General Mathius D. Fakhiri will coordinate the pursuit of the suspects with Army Major-General Ignatius Yogo Triyono.
"We will not be rash in our pursuit of the suspects, especially as they are now armed with assault rifles. We will call on the authorities to beware and take more precautions," Fakhiri said.
"We urge [military and police personnel] to be more careful in using firearms, as stealing and using the weapons are the insurgents' main goal."