KOMPAS.com – Chinese People's Liberation Army Navy [PLA Navy] salvage ships taking part in the multinational operation to raise the sunken Indonesian submarine KRI Nanggala-402 has failed to bring the doomed ship to the surface, moments after the vessels found its remains.
Indonesian Navy Second Fleet commander Rear Admiral Iwan Isnurwanto said the Chinese scientific salvage ship Tan Suo-2 has tried and failed to raise the sail section of the Type 209 submarine.
"The sling the Tan Suo-2 used to raise the sail section of the KRI Nanggala-402 broke. We initially thought that part of the ship was about 18 tons," Iwan noted at the press conference in Denpasar, Bali, on Tuesday.
Also read: Chinese Navy Joins Efforts to Salvage Lost Indonesian Submarine
"But the Chinese crews might have miscalculated, because if the rope was broken, it meant that the sail section weighed more than 20 tons. That means they have to recalculate the rope's strength to lift the sail section."
Iwan added that "lifting the [submarine's parts] is not easy because of the depths and the possibility that the sail section might be attached to other parts of the submarine." But he asserted that the operation did not come out entirely empty-handed.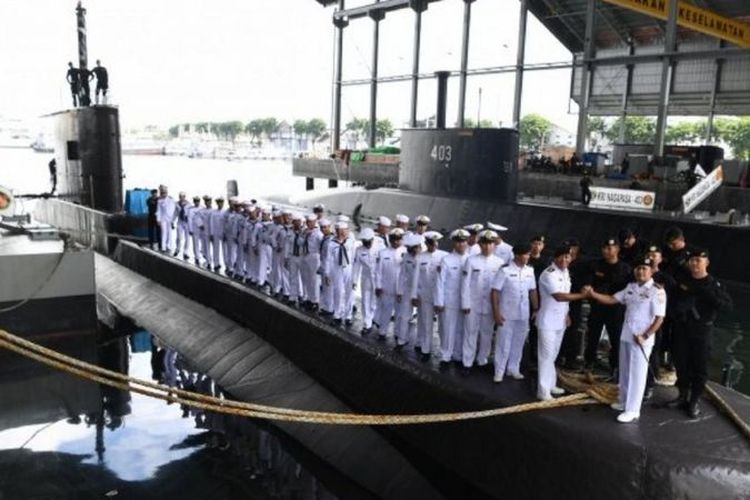 The crew of the KRI Nanggala-402 at their base in Surabaya, East Java Wednesday (20/4/2019)
"The Tan Suo-2 managed to salvage the [KRI Nanggala-402's] life raft. We have stored it as evidence and proof of the aid given by the Chinese ships have done their duty."
The salvage efforts came after the Tan Suo-2, the PRC Navy Ocean Salvage and Rescue Ship Yong Xing Dao-863, and the PRC Navy Ship Ocean Tug Nantuo-195 detected KRI Nanggala-402's bow section, sail section, and stern section.
"The salvage ships have yet to recover those sections from [the submarine], as well as the tool sections or stress sections. They also have yet to find the main body of the ship," Iwan said.
Also read: Indonesian Navy Declares the Submarine KRI Nanggala-402 Sunk