JAKARTA, KOMPAS.com – The Indonesian government's ban on travel for the Idul Fitri or Eid al-Fitr is thrown into question, after local authorities question the feasibility of banning travel within agglomerations of large cities and the surrounding areas.
Concerns over the spread of Covid-19 variants from India, South Africa and Great Britain continues, after authorities in the Central Java port of Cilacap intern 13 sailors out of 20-man crew of a cargo ship that sailed in from India that tested positive for Covid-19.
And Mount Sinabung in North Sumatra erupts again, as the volcano spews clouds three kilometers in the sky. This and more on Indonesia Highlights: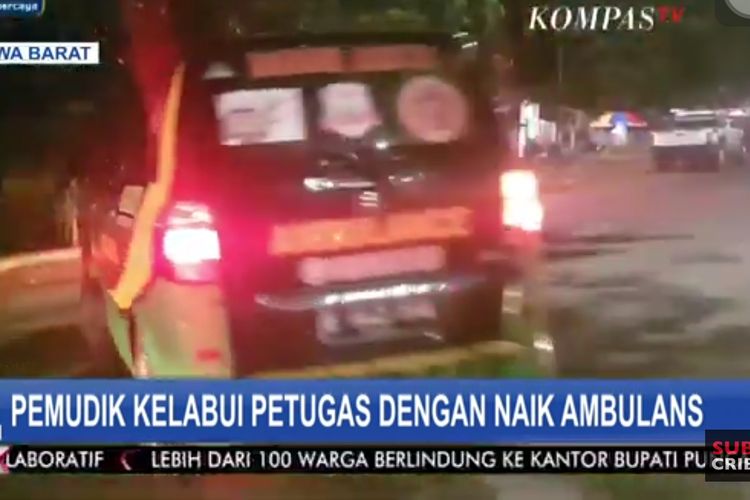 A Kompas TV screenshot of an ambulance stopped in Bekasi, West Java for carrying homebound holiday travelers in Bekasi, West Java Friday (7/5/2021).
Indonesia to Apply No Exceptions in Eid al-Fitr Holiday Travel Ban
The government has announced that its decision to ban homecoming travel or mudik for the Idul Fitri or Eid al-Fitr holidays will include agglomerations of nearby areas as well as more distant provinces.
Covid-19 Task Force spokesman Wiku Adisasmito said the ban applies to nearby inter-provincial agglomerations such as the Greater Jakarta area encompassing the capital and the satellite cities of Bekasi, Bogor, and Depok in West Java province, as well as Tangerang in Banten province.
"The government never made exceptions for localized travel, since all holiday travel is not allowed," he confirmed to Kompas.com on Friday, May 7.
Wiku is aware that ambiguity and confusion still surrounded the government's policy on travel in agglomerated areas like the Greater Jakarta Area.
"[The government's] policy confused us. During our meeting with Minister of Home Affairs [Tito Karnavian], the central government said holiday travel within agglomerated areas are allowed. Then the government confused us by reversing that position," said Tangerang Mayor Arief Wismansyah.
The Jakarta Provincial Administration is just as confused with the dilemma of telling the difference between citizens of the Greater Jakarta that need to buy foods, go to work or emergencies with those going to their parents' house for the holidays.
Aside from the Greater Jakarta Area and Greater Solo Area, other agglomerations that will be affected by the government policy include the surrounding areas of other Indonesian cities such as Bandung, Medan and Makassar.
Source:
https://go.kompas.com/read/2021/05/08/092415174/indonesia-to-apply-no-exceptions-in-holiday-travel-ban?page=all#page2.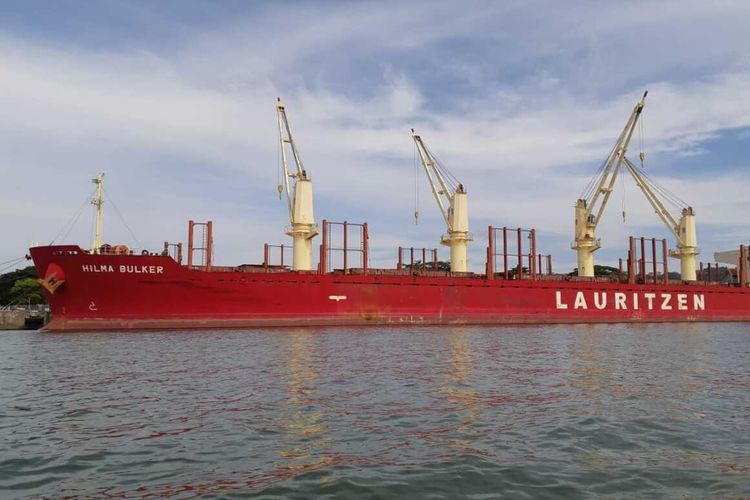 A cargo ship which sailed from India and docked in Cilacap, Central Java. 13 of the ship's crew tested positive for Covid-19
Indonesia Quarantines Foreign Sailors Suspected of Carrying Covid-19 Variant From India
Concerns over the transmission of the B.1.6.1.7 Covid-19 variant from India continues to spread throughout Indonesia, after authorities in the port of Cilacap, Central Java province quarantined 13 foreign sailors who tested positive for Covid-19.
The 13 sailors are among the 20 crewmen of a ship which sailed to Cilacap from India last April.
"Boarding officers from Cilacap's Health Services took genome samples from three of the sailors at Cilacap Regional Hospital on April 28, where they have been self-isolating in rooms separate from the other patients," said Cilacap Health Service chief Dr. Pramesti Griana Dewi.
Pramesti declined to confirm if the patients, who hailed from the Philippines, tested positive for the B.1.6.1.7 strain. But she confirmed that some contact with workers at Cilacap's Tanjung Intan port did occur.
"The procedure to determine if [the sailors] contracted the B.1.6.1.7 strain was carried out three days after the vessel arrived at Cilacap's [Tanjung Intan] port. It will then be sent to the offices of the Ministry of Health in Jakarta."
Prior to its arrival at Cilacap's Tanjung Intan harbor on April 25, the cargo ship was known to leave Indian waters on April 14.
Central Java's governor, Ganjar Pranowo, also weighed in on the ship's presence in Cilacap. "I urge port authorities [in Cilacap and elsewhere in Indonesia]] to know the origins of the ships that dock and use their ports," he said.
"If they came from countries that have dangerous [Covid-19] outbreaks, do not let them dock and use the port facilities of cities in Central Java." He also called for calm from the public.
Source:
https://go.kompas.com/read/2021/05/08/071833974/indonesia-quarantines-foreign-sailors-suspected-of-carrying-covid-19-variant-from?page=all#page2.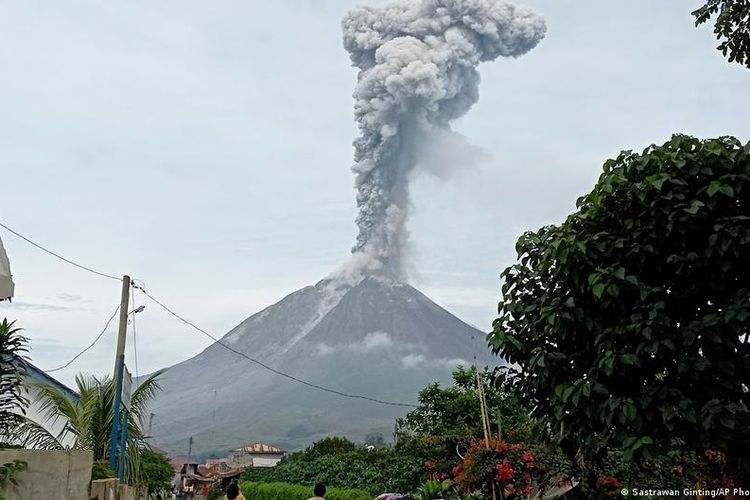 Sinabung erupts again, with locals told to stay up to five kilometers away from the crater's mouth.
Indonesia: Locals warned as Mount Sinabung erupts
Indonesia's Mount Sinabung erupted Friday, spewing thick volcanic ash almost 3 kilometers (more than 1.5 miles) into the sky, the country's geological agency said.
The eruption lasted more than six minutes as ash billowed above the volcano, but there were no immediate reports of casualties, the agency reported. Residents have been advised to stay 5 kilometers from the crater and have also been warned of possible avalanches of volcanic debris.
Sinabung has become increasingly active of late, with at least 15 smaller eruptions recorded in the past week. "The potential for eruption is still high. There will be more eruption in the near future," said Armen Putra, an official at the Sinabung monitoring post.
Mount Sinabung is located on the seismically active zone known as the "Ring of Fire" — an arc of volcanoes and fault lines encircling the Pacific Ocean. Sinabung has been erupting intermittently for years, with some 30,000 people displaced as a result.
Indonesia has 127 active volcanoes — more than any other country in the world — and in 2016, nine villagers were killed after Sinabung erupted.
Source:
https://go.kompas.com/read/2021/05/08/045002374/indonesia-locals-warned-as-mount-sinabung-erupts. n
Dapatkan update berita pilihan dan breaking news setiap hari dari Kompas.com. Mari bergabung di Grup Telegram "Kompas.com News Update", caranya klik link https://t.me/kompascomupdate, kemudian join. Anda harus install aplikasi Telegram terlebih dulu di ponsel.