JAKARTA, KOMPAS.com – Indonesia officially declared the KRI Nanggala-402 submarine sunk, after intensive searches by the country's navy as well as foreign vessels failed to find the ship, days after it was last located off the north coast of Bali.
ASEAN has condemned the deteriorating situation in Myanmar, prompting Indonesia's President Jokowi and other leaders to draw up five agreements to resolve tensions in the country.
And Indonesia has refused entry to 32 Indian nationals, as the government's started to apply its temporary ban on the country's citizens, following a surge of Covid-19 cases there. This and more on Indonesia Highlights: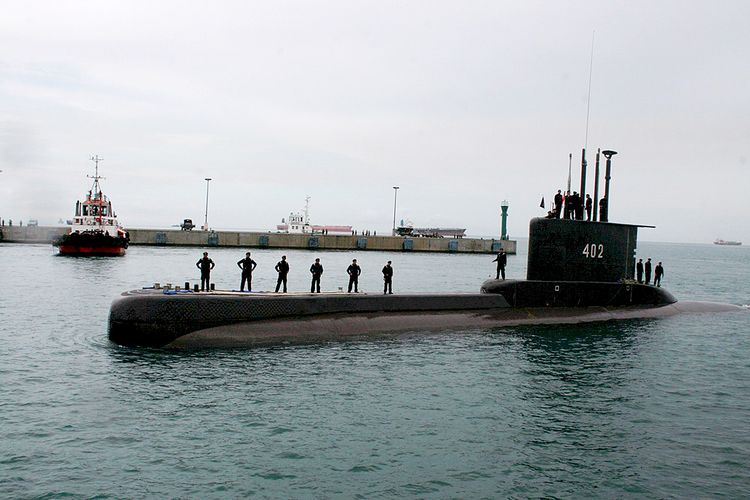 The Indonesian Navy Submarine KRI Nanggala-402 enters the Indah Kiat docks in the port city of Cilegon in Banten province in this file photo. The KRI Nanggala-402 has gone missing during exercises off the northern coast of Bali on Wednesday (21/4/2021)
Indonesian Navy Declares the Submarine KRI Nanggala-402 Sunk
The Indonesian military has confirmed that the submarine KRI Nanggala-402 has sunk off the northern coast of Bali, days after it lost contact with the Second Fleet based in Surabaya, East Java on Wednesday, April 21.
"The KRI Nanggala-402 was subsunk [sank] following a 72-hour search," said Indonesian military chief Air Marshal Hadi Tjahjanto on Saturday.
"The live support oxygen on the submarine [in case it blacked out] would only have lasted until the early hours of [Saturday, April 24]. Our findings are based on an oil spill and debris which is proof that the submarine has sunk."
Indonesian Navy [TNI AL] Chief of Staff Admiral Yudo Margono still held out hope.
"We have reason to believe that KRI Nanggala-402 did not experience a blackout when it lost contact and sunk off Bali. The last visual [of KRI Nanggala-402] by [Indonesian Navy] Kopaska frogmen saw that the ship's lights are still on," he said in Denpasar, Bali.
"If the power is still on in KRI Nanggala-402, then it has enough oxygen for at least five days. But the submarine has experienced cracks as it descended to 700-800 meters," he noted.