JAKARTA, KOMPAS.com – The Indonesian military has weighed in on the Nusantara vaccine, nearly a week after its creator, former Minister of Health Terawan Agus Putranto, tried out the vaccine on dozens of Indonesian parliamentarians at the Army's Gatot Subroto Hospital.
"The Nusantara Vaccine is not a program of the Indonesian military," said Indonesian military spokesman Major General Achmad Riad. He declined to say why the vaccine's trial run was carried out at the Gatot Subroto hospital.
The two-star general only maintained that "the military will always support a [homegrown] Covid-19 vaccine that meet the Indonesian Food and Drug Agency's [BPOM] standards on the vaccine's safety, efficacy, and whether it is fit to use. "
The Nusantara vaccine sparked controversy when its trial run went ahead on April 14, despite BPOM claims that it bypassed current procedures to manufacture the vaccine, such as the preclinical stage before entering the first stage.
Also read: Indonesia Highlights: BPOM Disavows Clinical Tests of Homegrown Covid-19 Vaccine | Indonesian Flag Carrier Garuda Indonesia Prohibits Shipment of Vivo Cellphones | Carrion Flower in Indonesia's West Sumatra Province Bears Fruit
"The Nusantara vaccine team refused to comply with our request to go through the preclinical stage to the first stage," said BPOM head Penny Lukito last Wednesday.
"But we permitted them to hold trials, on condition that they submit reports on three vaccine volunteers to prove its efficacy." She added that the team did not comply with the bargain.
"The Nusantara vaccine team researched 28 volunteers, which exceeded the number that was agreed upon. The data on the vaccine's safety did not yield promising results, while data on the vaccine's ability to raise immunogenetics are invalid, unclear and inconsistent."
For these reasons, Penny added that BPOM will not continue testing of the Nusantara vaccine to its second and third stages. While she maintained that BPOM will not stop Gatot Soebroto hospital from continuing work of the vaccine, she said they can do so "at their own risk."
Also read: BPOM: Indonesia's Merah Putih Vaccine to Kick Off Production in 2022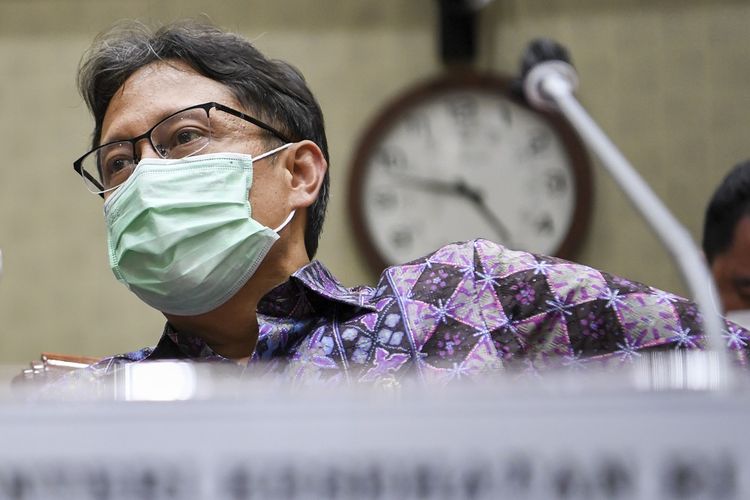 Indonesia's Health Minister Budi Gunadi Sadikin during a meeting with the House of Representatives Commission IX overseeing healthcare and manpower on February 8, 2021 in Jakarta. ANTARA FOTO/Hafidz Mubarak A/foc.
Minister of Health Budi Gunadi Sadikin reiterated Penny. "Mechanism for researching vaccines [like the Nusantara vaccine] should follow established scientific guidelines. They should not be shortcut," he said.
"Discourse on the Nusantara vaccine should be done scientifically, not influenced by politics or the media. Let medical experts debate the vaccine's pros and cons, not politicians or editors-in-chiefs."
Budi's predecessor, Terawan Agus Putranto, developed the Nusantara vaccine from dendritic cells used for cancer therapy during his tenure as Minister of Health last year.
Deputy House of Representatives chairman Sufmi Dasco Ahmad are among those who volunteered to test the vaccine, as did controversial personages such as tycoon Aburizal Bakrie and retired general Gatot Nurmantyo.
(Writers: Rahel Narda Chaterine, Haryanti Puspa Sari | Editor: Diamanty Meiliana)
Sources:
https://nasional.kompas.com/read/2021/04/19/10512411/kapuspen-vaksin-nusantara-bukan-program-tni?page=all#page2.
https://nasional.kompas.com/read/2021/04/19/07134641/menkes-pengembangan-vaksin-covid-19-harus-sesuai-kaidah-ilmiah-jangan-di?page=all#page2.
Dapatkan update berita pilihan dan breaking news setiap hari dari Kompas.com. Mari bergabung di Grup Telegram "Kompas.com News Update", caranya klik link https://t.me/kompascomupdate, kemudian join. Anda harus install aplikasi Telegram terlebih dulu di ponsel.