JAKARTA, KOMPAS.com – Jakarta Governor Anies Baswedan has issued new regulations stipulating restaurants to open later during the holy Muslim month of Ramadan, to accommodate Muslim diners looking for late night eats after a day of fasting.
The ordnances ordered restaurants and diners "to extend their opening hours by 90 minutes from 9 pm to 10.30 pm for dining-in," he said on Monday.
"The rules also extended to vendors of street food and their stalls, whether in a temporary location or one determined by the authorities."
"The eateries would then reopen at 2 in the morning to 4.30 am to serve the sahur [predawn meal before fasting]."
However, malls will still close at 9 pm, including restaurants, cafes and other eateries within its premises.
Also read: Ngabuburi, An Indonesian Ramadan Tradtion
The Gerindra Party politician added that the eateries will have more flexibility in delivery services, namely 24 hour delivery services.
"Those who are fasting will naturally eat later, so the later hours are designed to accommodate them," said Deputy Jakarta Governor Ahmad Riza Patria.
"Aside from fasting, many people also have to carry out tarawih prayers. Most of them would only have light bites before tarawih, and have dinner afterwards."
Riza added that the Jakarta Provincial Administration is confident of taking the step, as the number of Covid-19 cases are on a downward trend. Jakarta Regional Legislature parliamentarian Guruh Tirta Lunggana of the National Mandate Party is just as upbeat.
Also read: Indonesia Islamic Council Issues on Iftar Together during Ramadan
"[The Jakarta Provincial Administration's] policy on restaurants will bring a sense of normalcy, namely late night eats, that have been missing since the Covid-19 pandemic struck last year," he said. "The move can also stimulate Jakarta's economy, as the restaurants stand to profit."
The sense of normalcy also extended to protect the sensibilities of those who are fasting.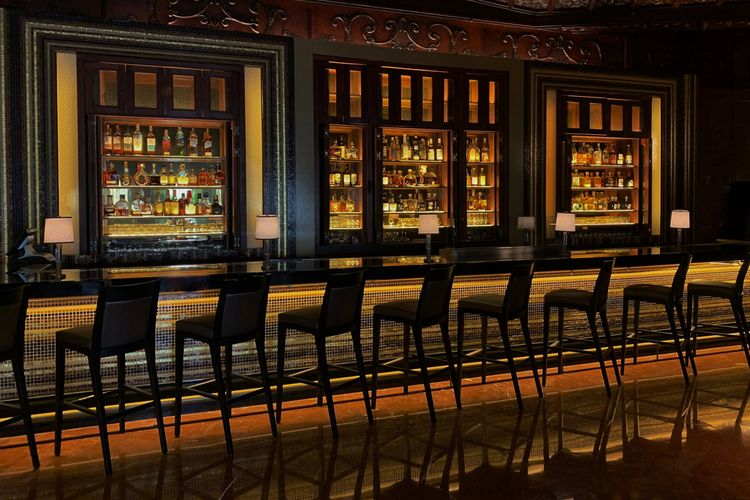 An illustration of a pub or bar
"Restaurants operating in the daytime are urged to use curtains to cover their establishments, out of respect for those who are fasting," said a circular issued by the Jakarta Tourism and Creative Economy Services head Gumilar Ekalaya. "Live music and DJs are also prohibited."
The prohibitions extended to the serving of alcohol. "Bars in restaurants and cafes are not allowed to operate during Ramadan. This prohibition also extended to wine bars, liquor stores and similar establishments."
As with the rest of the year, the number of diners is limited to 50 percent capacity.
(Writers: Rosiana Haryanti/Editors: Theresia Ruth Simanjuntak/Rindi Nuris Velarosdela, Jessi Carina)
Sources:
https://megapolitan.kompas.com/read/2021/04/12/18574661/anies-beri-aturan-baru-jam-operasional-selama-ramadhan-restoran-tutup?page=all#page2.
https://megapolitan.kompas.com/read/2021/04/13/15524351/ini-alasan-pemprov-dki-perpanjang-jam-operasional-restoran-selama?page=all#page2.
https://megapolitan.kompas.com/read/2021/04/13/05403351/anies-larang-bar-di-restoran-dan-rumah-makan-beroperasi-selama-ramadhan.
Dapatkan update berita pilihan dan breaking news setiap hari dari Kompas.com. Mari bergabung di Grup Telegram "Kompas.com News Update", caranya klik link https://t.me/kompascomupdate, kemudian join. Anda harus install aplikasi Telegram terlebih dulu di ponsel.