JAKARTA, KOMPAS.com – Indonesia is set to use the momentum from the holy Islamic month of Ramadan to take its first steps towards the new normal.
But areas deemed to be high-risk Covid-19 zones might want to hold their breath, as they still have to live under a lockdown of sorts.
And the Papua Regional Police condemned insurgents for declaring open season on teachers and other civilian workers in Puncak regency's Beoga district. This and more on Indonesia Highlights: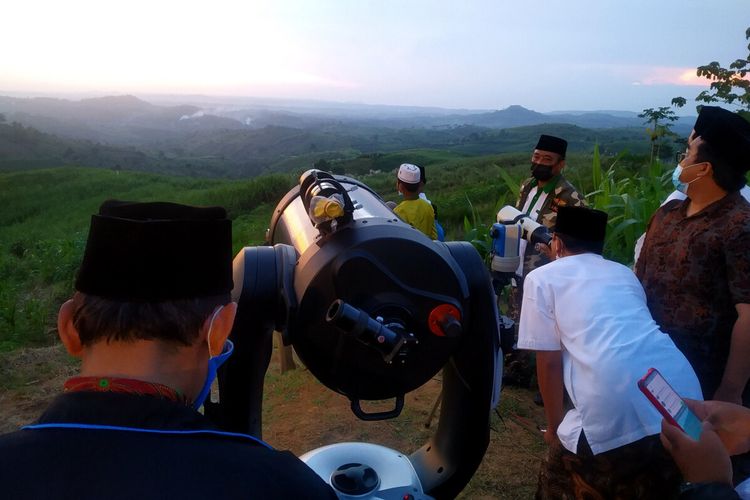 Hilal observers at Blitar regency, East Java, Monday (12/4/2021)
Indonesia Will Begin Holy Muslim Fasting Month of Ramadan April 13
Indonesia will observe the first day of the Muslim fasting month of Ramadan on Tuesday, following an isbat (confirmation) meeting held by the Ministry of Religious Affairs, several Islamic organizations, and other institutions in Jakarta Monday.
"Without any dissenting opinions, we declare the first day of Ramadan 1442 Hijriah falls on April 13, 2021," Minister of Religious Affairs Yaqut Cholil Qoumas announced.
His emphasis highlighted the long-running disagreement between the government and the Nahdlatul Ulama Islamic organization on one side, versus the latter's rival Muhammadiyah, on the start and end of Ramadhan.
Yaqut explained that the meeting's decision was based on hisab (astronomical calculations) and rukyat (lunar movement observations) across Indonesia.
"Thirteen people under oath witnessed that the crescent moon [symbolizing the start of Ramadan] was sighted [at all designated locations]," Yaqut said. "Tonight we can start the tarawih [evening Ramadan prayers] and in the morning we perform sahur [pre-dawn meal]."
Ramadan is expected to last 30 days. The government will hold another isbat meeting on May 11 to determine the first day of Syawal month, which marks the Eid al-Fitr celebrations, whichi is also known as Idul Fitri or Lebaran.