JAKARTA, KOMPAS.com - Investigations carried out by the Indonesian National Police [Polri] have found that the Islamic State still cast its shadow over Indonesia, particularly the role of women in carrying out attacks.
IS continued to inspire Indonesian radicals who has taken action after getting radicalized by IS propaganda online, or joined their proxies such as Jamaah Ansharut Daulah [JAD], a group in Indonesia and other parts of Southeast Asia which swore allegiance to Islamic State.
A trend seen among these radicals, many of whom are millennials, was the increased role of women in carrying out terrorist attacks, and the dissemination of their intentions through instant messaging such as WhatsApp or social media like Instagram.
First seen during the bombings in Surabaya, East Java in 2018, this terrorist modus operandi was further highlighted in last Sunday's suicide bombings of the cathedral in Makassar, South Sulawesi province, where one of the suspects was a woman identified as YSF.
Also read: Jokowi Calls for Unity Against Terrorism
But Zakiah Aini, the 'lone wolf' who singhlehandedly assaulted the Indonesian National Police Headquarters in Jakarta, raised awareness of this form of terror by giving it a name and a face.
CCTV footage of the assault showed her in a long black dress and a blue veil, brandishing a weapon and firing several shots into the Police Headquarters compound in Trunojoyo, South Jakarta on Wednesday, March 31.
The police stopped her rampage with a number of rounds. One of them pierced her heart and left her dying on the spot.
While much of Zakiah's motives remain unknown due to her death, a number of clues from her last days remained to give glimpses into her radicalization, as laid out below:
A former student at Gunadarma University
Gunadarma University Vice Chancellor for Student Affairs Irwan Bastian confirmed that Zakiah studied at the university. He added that she did not complete her degree, as her studies only lasted until the fourth semester.
"[Zakiah] enrolled in [Gunadarma University] in 2013. But she dropped out of sight during the fifth semester onwards. Under our rules, she is no longer a Gunadarma student," Irwan explained to reporters last Thursday.
Also read: Indonesia Highlights: Indonesian National Police Identifies Assailant of Police Headquarters in Jakarta | Indonesian Police Arrest Dozens Over Makassar Cathedral Bombing | Indonesian Air Crash Investigators Find the Black Box of Sriwijaya Air Flight SJ182 |
Neither university officials nor Zakiah's loved ones or acquaintances knew why she discontinued her studies. The university records showed that she was an academically accomplished student as a sophomore, as seen in her good grade point average [GPA].
"[Zakiah Aini's GPA] was around 3.2 or 3.1," the Deputy Dean of the Faculty of Economics, Gunadarma University, Budi Prijanto, recalled to reporters.
The front of the University of Gunadarma campus on Jalan [street] Margonda, Depok, West Java
A loner
The youngest of six children, Zakiah mostly kept to herself at home after dropping out of Gunadarma. "She hardly hung out with people in the neighborhood," recalled Kasdi, the subdistrict head of the Kelapa Dua Wetan neighborhood in the East Jakarta district of Ciracas.
"I myself have never seen her around. According to her siblings, [Zakiah] would only come out on the terrace for a few minutes then go back to her room," he noted to Kompas.com.
Kasdi said his son often played with Zakiah's nephew at her house. But he never interacted with Zakiah, as she always locked herself in her room.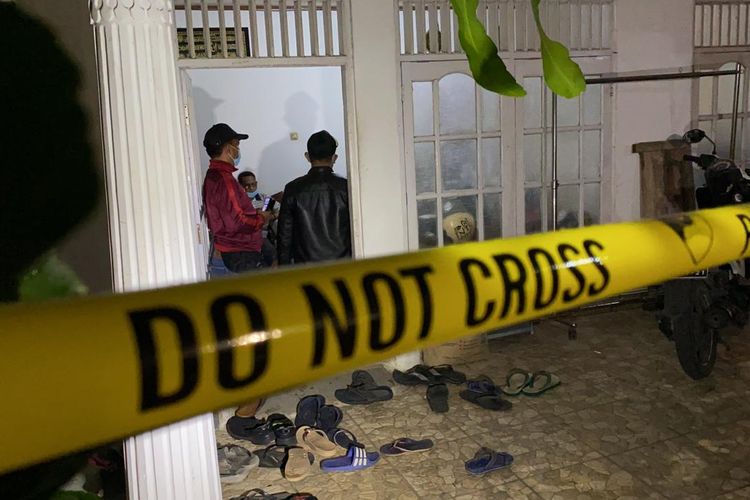 Zakiah Aini's house in Ciracas, East Jakarta.
Changing cellphone numbers
"[Zakiah's] family was looking for her [when she attacked the National Police headquarters]. But her family had difficulties in tracing her because she constantly changed her phone number," added Kasdi.
"Every time her family traced her number, she would change her SIM card. That was how she stayed a step ahead of them." Her family never resolved this problem until the day of the shooting.
According to Kasdi, "Zakiah left her house at around 8.30 am. She told her parents she will be gone for awhile, but she never came back," he added.
Also read: Breaking News: Shooting at National Police Headquarters in Jakarta
"Her family reported her as missing to a nearby police station before they received news of the attack on the National Police heaquarters. Two policemen from the Jakarta Metropolitan Police arrived at my door with the news, which was how we found out that she was the attacker."
A farewell via WhatsApp
A police search of Zakiah's house revealed that the premeditated nature of the attack on the Indonesian National Police headquarters.
"The police uncovered [Zakiah's] will to her family during their search [of her house]. Our investigators also found that she conveyed her farewells to her family on their Whatsapp," said National Police Chief General Listyo Sigit Prabowo.
Kelapa Dua neighborhood head Sandy Adamsyah confirmed she made the will, which was found by one of her siblings.
Also read: Indonesian Police Arrest Dozens Over Makassar Cathedral Bombing
"At first, her sibling was confused about where to report their finding. By the time he went to the police, news of the attack and her role in it has broken," Sandy concluded.
Pledgling Support for the Islamic State
Listyo affirmed Zakiah was a 'lone wolf' or sole perpetrator of the attack. "Zakiah's role in the attack was reflected by her show of allegiance to IS on social media.
Listyo added that Zakiah meant business on her Instagram account. "[Zakia] uploaded a photo of the ISIS flag and a caption on jihad according to ISIS, hours before the attack" he noted.
While the police disclosed her gradual radicalization, they did not disclose about other aspects of her complicity. These include how she obtained the weapons used in the attack.
(Writer: Ivany Atina Arbi | Editor : Ivany Atina Arbi)
Source:
https://megapolitan.kompas.com/read/2021/04/02/06000021/fakta-zakiah-aini-pernah-kuliah-di-gunadarma-dan-raih-ipk-bagus-hingga
Dapatkan update berita pilihan dan breaking news setiap hari dari Kompas.com. Mari bergabung di Grup Telegram "Kompas.com News Update", caranya klik link https://t.me/kompascomupdate, kemudian join. Anda harus install aplikasi Telegram terlebih dulu di ponsel.