JAKARTA, KOMPAS.com – The Indonesian National Transportation Safety Committee [KNKT] has taken a major step in uncovering the causes behind the downing of Sriwijaya Air flight SJ182 last January, after investigators found the airline's cockpit voice recorder [CVR] or black box.
KNKT chairman Soerjanto Tjahjono announced that investigators found the black box on Tuesday evening, March 30, off Jakarta's Thousand Islands, where the Boeing 737-500 went down.
"We used a Trailing Suction Hopper Dredger [TSHD] vessel, the King Arthur 8, to suck mud from the seabed, after a search by National Search and Rescue Agency [Basarnas], Indonesian Navy and local divers found nothing," he said at a press conference on Wednesday.
Also read: Families of Indonesian Victims in Sriwijaya Air Disaster Sues Boeing
"We settled our search on a muddy, 90 by 90 meter area near where we found the flight's flight data recorder [FDR]. The process to find the black box took five days; it felt like a needle in a haystack."
Soerjanto added that the black box for Flight SJ182 was found more a month and a half after the search for the CVR, the plane's debris or the dead officially ended on February 21.
He estimated that the KNKT will take three days to a week to transcribe the black box's data. "The KNKT will then match the transcript with the data from the Flight Data Recorder [FDR], that was found three days after the crash on January 9.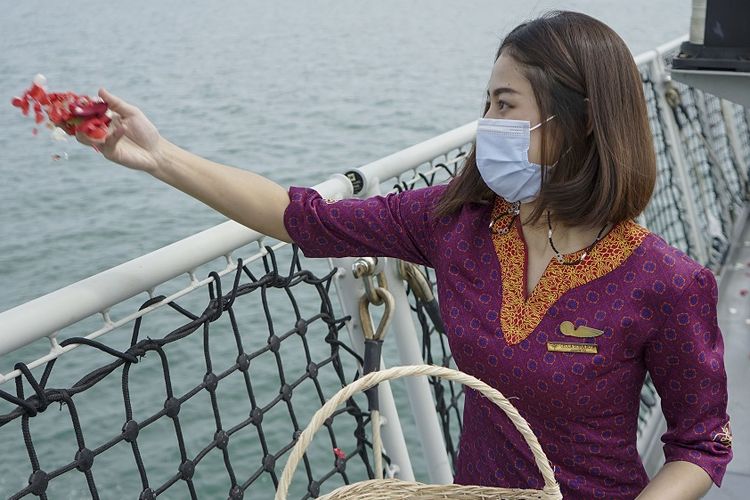 A Sriwijaya Air stewardess on board the Indonesian Navy ship KRI Semarang-594 lays flowers in the sea to mourn the dead on Sriwijaya Air SJ182 on Friday (22/1/2021). Sriwijaya Air Flight SJ182 plummeted to the sea near the Thousand Islands off Jakarta on Saturday, (9/1/2021). ANTARA FOTO/Yadi Ahmad/MRH/hp.
Also read: KNKT: Auto Throttle Malfunction Suspected in Sriwijaya Air Disaster
"The data from the CVR black box recorder will give a better idea of the situation in the cockpit before [Flight SJ182's crash]."
Sriwijaya Air Flight SJ182 crashed between the Laki and Lancang Island in the Thousand Islands chain, minutes after it took off from Jakarta's Soekarno Hatta International Airport to head to Pontianak, West Kalimantan province on Saturday, January 9.