TOKYO, KOMPAS.com – Indonesia and Japan have touched on a series of issues ranging from tensions with China, the Myanmar crisis to economic loans, as Indonesian Minister of Foreign Affairs Retno Marsudi and Minister of Defense Prabowo Subianto met with their Japanese counterparts in Tokyo.
During the meeting with her Japanese counterpart Motegi Toshimitsu, Retno expressed her thoughts about China's use of force to unilaterally change the status quo in the Asia-Pacific region.
Motegi shared her concerns. "[Foreign Minister Motegi] conveyed his concerns about China, particularly Beijing's Coast Guard Law and heightened tensions in the East China and South China Seas,:" the Japanese Embassy to Indonesia said in a press release Monday.
Retno also conveyed Indonesia and other ASEAN members' attempts to resolve tensions there, after the country's military overthrew democracy icon Aung San Suu Kyi's civilian government last February.
Also read: Indonesian Embassy in Japan to Account For Indonesian Nationals After Earthquake
Motegi condemned the Myanmar military junta's violent crackdown on protests, which killed hundreds of people. However, he hailed ASEAN's attempts to resolve the Myanmar crisis peacefully, notably Indonesia's leading part his respects for Indonesia's leadership role in reaching this goal.
Retno and Motegi also "pledged uphold a free and transparent international order based on the supremacy of law, so as to maintain peace, stability and prosperity for the international community that [both countries] can adhere to."
Bilaterally, Motegi announced that Japan will aid Indonesia by providing a cold chain supply scheme worth ¥400 million [Rp. 52.6 billion] to deal with the Covid-19 pandemic, as well as bringing into existence a resilient, multi-tiered economic chain.
"Among the deals that are struck included are ¥70 million in aid [Rp. 9.2 billion] to help build infrastructure in the deep water port in Patimban [West Java] to bring about a 'Free and Open Indo-Pacific [region]" and a further improved ASEAN Outlook on the Indo-Pacific region."
However, Motegi urged the Indonesian government to revoke limits on Japanese food exports to Indonesia. He also conveyed his condolences over the Makassar Cathedral suicide bombing which killed both bombers, and wounded at least 20 others.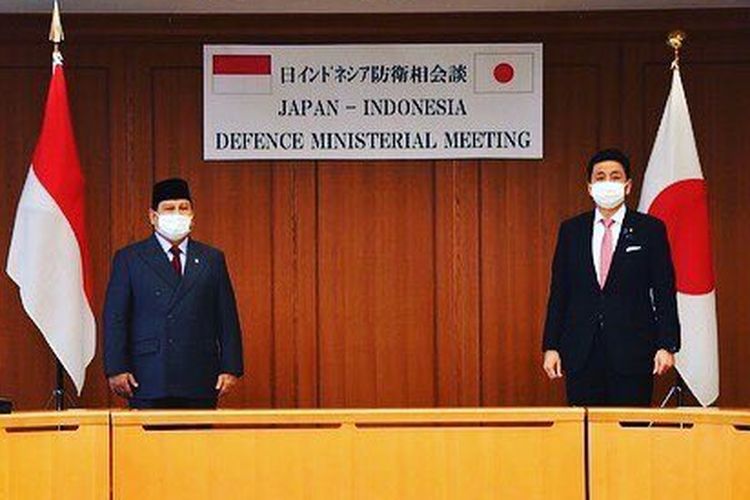 Indonesian Minister of Defense Prabowo Subianto meets Japanese Minister of Defense Nobuo Kishi in Tokyo, Japan on Sunday (28/3/2021)
Also read:
Indonesian Navy Launches First Domestically Built Submarine
Meanwhile, Indonesia and Japan are expected to strike deals on defense systems and transfer of technology soon.
Indonesian Minister of Defense Prabowo Subianto and his Japanese opposite number Toshimitsu Nobuo Kishi are expected to ink the agreement during their meeting and the meeting of both countries' foreign ministers, according to the Kyodo News media outlet.
Prior to meeting their opposite numbers, Retno and Prabowo met Japanese Prime Minister Yoshihide Suga. Suga met Indonesian President Joko Widodo on October 2020, shortly after he replaced his predecessor Shinzo Abe, who retired due to ill health.
(Writer: Achmad Nasrudin Yahya | Editors: Shintaloka Pradita Sicca, Kristian Erdianto)
Sources:
https://www.kompas.com/global/read/2021/03/30/153835170/indonesia-jepang-lakukan-pertemuan-tingkat-menteri-bahas-masalah-china?page=all#page2.
https://nasional.kompas.com/read/2021/03/30/13564961/indonesia-jepang-segera-sepakati-kerja-sama-soal-transfer-alutsista.
Dapatkan update berita pilihan dan breaking news setiap hari dari Kompas.com. Mari bergabung di Grup Telegram "Kompas.com News Update", caranya klik link https://t.me/kompascomupdate, kemudian join. Anda harus install aplikasi Telegram terlebih dulu di ponsel.