SOUTH TANGERANG, KOMPAS.com – The Indonesian police has arrested the suspect in the murders of a German national and his Indonesian wife who were found dead at their home in the city of South Tangerang, Banten province last Friday.
The police announced that a Criminal Investigation Agency [Bareskrim] team of detectives from the South Tangerang Police Department nabbed Wahyuapriansyah in the Tambun district of the city of Bekasi in West Java .
"We arrested Wahyuapriansyah at his relatives' home and named him as a homicide suspect," said South Tangerang Police Department chief Grand Police Commissioner Attendant Iman Imanuddin.
Also read: Indonesia Highlights: N439K Coronavirus Strain Found in Indonesia Since November 2020 | Papuan Insurgents Hold Regional Airline Pilot and Crew Hostage |
Police in South Tangerang Investigate Murders of A German Citizen and His Indonesian Wife
Establishing motives
"He admitted to killing his victims, 84-year old KEN and his wife, 53-year old NS, during questioning. He also said that he has no suspects." Iman added that the 22-year old laborer's actions was motivated by revenge.
"Wahyuapriansyah said the victims verbally insulted him and subjected him to slights. These included being physically struck twice by KEN, while NS often gestured at him with her feet," Iman asserted.
"[KEN and NS'] actions are possibly in connection to a number of errors on Wahyupriansyah's part, when he was renovating their home in South Tangerang's Serpong district from February 22 until he was dismissed on March 8. That was how he knew the layout of their place."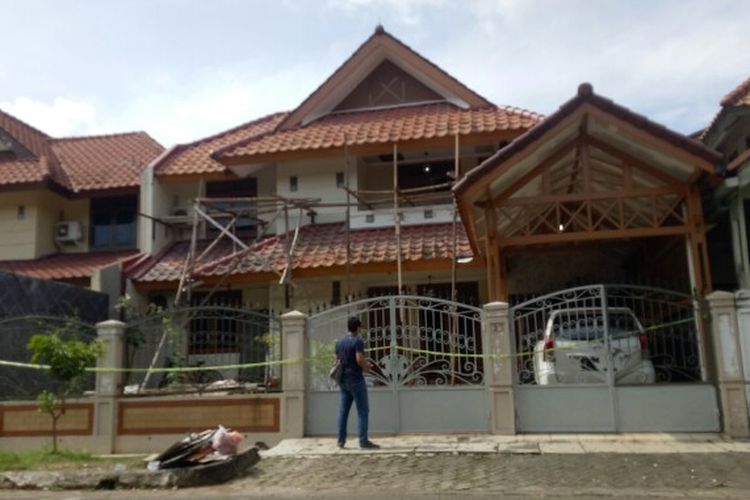 The house in Giri Loka housing complex in the BSD housing development in Serpong, South Tangerang, where a German citizen and his Indonesian wife were found murdered on Saturday, (13/3/2021)
Carrying out the murders
Investigators noted that Wahyuapriansyah arrived at his victims' house at the Giri Loka housing complex in Serpong at 10.30 pm last Friday. They added that he broke in by jumping the fence, then entered the house through a balcony on the second floor.