JAKARTA, KOMPAS.com – The number of families seeking closure over the deaths of their loved ones on Sriwijaya Air Flight SJ 182 continues to grow, as they moved to sue aircraft manufacturers Boeing for any faults in the plane.
Authorities in Singkawang, West Kalimantan caught one of two tigers that ran loose in the city's zoo after cornering the endangered animal overnight. The feat came at a cost, as the big cats killed an animal handler, followed by the death of one of the animals.
And Mount Sinabung in North Sumatra erupted again. The eruption started off by sending hot clouds 2500 meters into the atmosphere. Read on for more of these stories, as curated by our editors: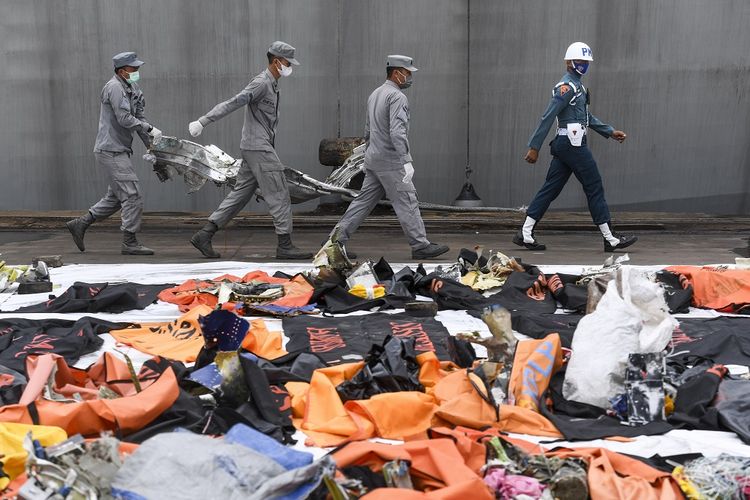 The Indonesian government has halted the search for victims of Sriwijaya Air Flight SJ182 that crashed into the Java Sea on January 9.
More Families from Indonesian Victims in Sriwijaya Air Disaster Sues Boeing
The number of Indonesian families suing Boeing for the loss of their loved ones on a Sriwijaya Air flight from Jakarta to Pontianak, West Kalimantan have increased from three to 17, after 14 families decided to take the American aircraft manufacturer to court.
The families launched the lawsuit nearly a month after the low-cost carrier's Flight SJ182 went down in waters near the Thousand Islands off Jakarta on Saturday, January 9, as it was flying from the capital to Pontianak, West Kalimantan.
"We have filed the petition for the suit on behalf of the families of the victims of Sriwijaya Air [Flight SJ182] to a district court in Chicago, which is Boeing's head offices," said attorney Keizerina Devi Azwar of the Jakarta-based Lex Justitia law firm in a statement dated Saturday, February 6.
"My clients filed this lawsuit to get proper compensation from Sriwijaya Air as the carrier and Boeing as the manufacturer of the plane. We are aware that no amount of compensation can replace the loss of a loved one, but at least they can hold Boeing liable." "
The plaintiffs designated Lex Justitia to represent them, along with the Chicago-based Nolan Law Group, because of the latter's experience representing clients who lost loved ones in aviation disasters, including those in Indonesia," asserted Devi.
"These include Garuda flight number GA 152 that went down over Medan, North Sumatra, as well as Silk Air Flight 185 that crashed off Palembang, South Sumatra in 1997."