JAKARTA, KOMPAS.com – Indonesia is set to make a great leap forward in its fight against the Covid-19 pandemic, as the country aims to vaccinate 70 million people in the first half of 2020.
The government is just as determined to uphold tolerance, as it banned the compulsory wearing of hijabs or other sectarian related attire in Indonesia's schools.
And the 2020 regional election in parts of Indonesia hit the headlines again, after the winner of the race for regent in East Nusa Tenggara province's Sabu Raijua regency proved to be a US citizen. Read more on these news items below: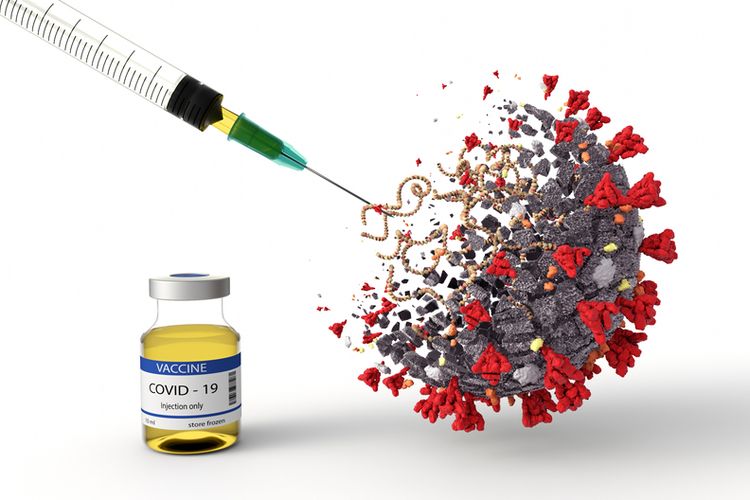 An illustration of Covid-19 vaccine.
Indonesia Aims to Vaccinate 70 Million People in First Half of 2021
Indonesian Coordinating Minister for Maritime Affairs and Investment Luhut Binsar announced that Indonesia aims to vaccinate 60 to 70 million people by the first half of 2021.
"We intend to speed up mass vaccinations [in February and March]," said the former Army four star general on Wednesday, February 3.
Coordinating Minister for Economic Affairs Airlangga Hartarto reiterated Luhut.
"President Joko 'Jokowi' Widodo has urged an increase in the volume of Covid-19 vaccinations [across Indonesia] so as to speed up herd immunity [nationwide]," he said.
"The President also called on the time frame [for the vaccinations] to be adjusted so that herd immunity can be achieved." Indonesia aims to vaccinate 70 percent of its population, or 182 million people, to achieve herd immunity against Covid-19 by March or April 2022.
Source: