JAKARTA, KOMPAS.com – Indonesia has called on the conflicting parties in Myanmar to settle their differences peacefully, after its military overthrew the civilian government of Nobel Peace Prize winner Aung San Suu Kyi and declared a state of emergency on Monday, February 1.
In its website, the Indonesian Ministry of Foreign Affairs "expresses its concern over the recent political situation in Myanmar."
Jakarta also "calls for the observance of the principles of the ASEAN Charter, among other things, adherence to the rule of law, good governance, the principles of democracy and constitutional government."
Noting that the coup was caused by tensions over legislative elections in November 2020, the ministry said "electoral differences be addressed in accordance with available legal mechanism."
Also read: Indonesia Urges Myanmar to Resolve Conflict With the Rohingya
The ministry also called on "all parties…to exercise self-restraint and put forth dialogue in finding solutions to challenges."
The deteriorating security situation in Myanmar also prompted the Ministry to issue an advisory to Indonesian nationals in Myanmar.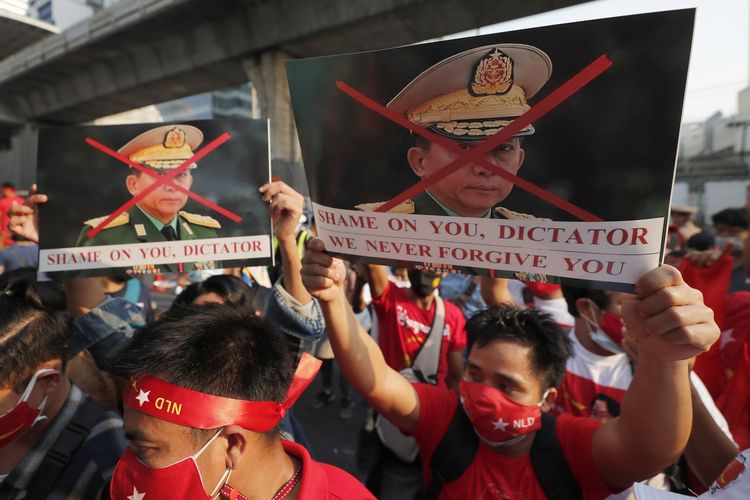 Burmese living in Thailand hold pictures of Myanmar military Commander-in-Chief Senior Gen. Min Aung Hlaing during a protest in front of the Myanmar Embassy, in Bangkok, Thailand, Monday, Feb. 1, 2021. Myanmar's military has taken control of the country under a one-year state of emergency and reports say State Counsellor Aung San Suu Kyi and other government leaders have been detained. (AP Photo/Sakchai Lalit)
"[We urge] Indonesian nationals [in Myanmar] to remain calm and alert. We also call on them to be aware of the country's security situation, and minimize non-essential activities outside the house."
The Indonesian Embassy in Myanmar's capital Yangon reported that the estimated 500 Indonesian nationals in the country who work in such sectors as oil and gas, manufacturing, the garment industry, and shipping, are all accounted for.
Also read: Amnesty International Indonesia Urges Protection of Rohingya Refugees